There are constantly multiple platforms, apps, people, companies you name it, vying for our attention. With all this multitasking happening around us, how can we keep people concentrated long enough to sit through one presentation?
To start, we can keep up with all the innovations happening in other areas of our lives! Linear, stagnant presentations will not cut it anymore. Treat your audience to something spectacular to keep them engaged in your presentation from start to finish. To do this, create an interactive PowerPoint presentation. This interactivity allows you to have a dialogue with your audience – no monologues allowed today!
Fortunately, bringing your audience to a part of your presentation can be done with little effort, for such a great reward. Without making major adjustments to your existing slides, you can create an engaging and interactive presentation that your audience will love.
Below, we have prepared a step-by-step guide on how to make an interactive PowerPoint presentation, so you can turn any ordinary slides into an interactive experience from start to finish!
What is an Interactive Presentation?
An interactive presentation allows for higher engagement and interaction with your audience. This interactivity is often implemented in a presentation by using different types of multimedia, i.e., audio, video, data, the actual content inside the PowerPoint, data, or polling the audience. The more objects you can interact with, the more appealing, and attention grabbing the presentation. No more reading off a slide!
These different media are not used excessively, too much will have the opposite effect on your audience. Simple additions to your presentation keep the information effective, consumable, and hold their attention.
Benefits of an Interactive Presentation
Increased audience engagement – having a dialogue with your audience gets them more involved and active in your presentation.
Personal connection with audience – Adding in interactive activities allows you to really connect with your audience as the presentation is going on. Did they understand the video you just showed them? What emotions were evoked?
Audience retains more information – as the audience is more involved in the presentation, they will retain more information as they are not just passively listening
Audience actively listens and participates – no more staring into space. Keeping your audience surprised will keep them actively listening to the information and participating in the presentation instead of just being on the sidelines.
Presentation is personal and enjoyable – for both you and your audience. As the audience takes part in the presentation, they feel a more personal connection to the information
Better understanding of information – with more concrete examples and new ways to share information, your audience can better understand what you are trying to tell them.
How to Make an Interactive PowerPoint Presentation
Before Presenting
1. Start with an Engaging Design
Don't judge a book by its cover, but yet most people do. First impressions matter. Start your presentation by wowing your audience with a fresh modern designed PowerPoint. If creativity is not your strong point, try using free premade templates. You can customize these templates with your own information, but they save you time and effort in creating and designing the look of your presentation.
How to implement
There are many websites that offer free downloadable PowerPoint templates such as Slidesgo, Canva, or Buncee. On any of these websites, search by color or subject to find a template right for your topic. Download your pick as a PowerPoint file and begin editing and customizing with your information.
Read more about 
how to design better PowerPoint presentations
!
: How to Make an Interactive PowerPoint Presentation: An Easy Step-by-Step Guide
2. Add Different Multimedia
Throughout your presentation ensure there are many different formats of information being shared. Images, videos, audio recordings, and even gifs can be used to highlight or emphasize important information. Everyone learns a little bit differently, so not only will these new media formats change the rhythm of the presentation, they can also help some better connect with the material.
How to implement
In PowerPoint, on the Insert tab, you can insert images, gifs, and videos that you have saved on your device or by searching online. PowerPoint also has simple editing tools to make sure these visual aids look nice and fit well into your slide. Take a look at the editing features by clicking on the object and going to the Video or Photo Format tab.
3. Add Hyperlinks
To add a bit of surprise in addition to engaging multimedia in your presentation, build hyperlinks into your slideshow. These links can be used to easily move through your presentation in a non-linear way. Hyperlinks give you the ability to jump to different points in your slideshow, without having to tab to every slide in between.
This tip can be applied in many different ways. You can use it to create a game, as we did in the Jeopardy review game, to jump to a particular slide that you are referencing often throughout your presentation, or to shuffle up all of your PowerPoint slides.
How to implement
To add a hyperlink on your slide, insert a shape, an image, or text. Once your chosen object is placed on the slide, highlight the text or click on the shape or image. Then, go to the Link icon under the Insert tab. Click "Place in this document," and select the slide you would like to link to.
Check out this video also about how to create engaging & interactive presentations demonstrating how to create hyperlinks!
4. Add Transitions & Animations
Once you have added multimedia and hyperlinks to your slides, consider adding pizzazz with transitions and animations. Transitions are the effects that happen when you move from one slide to another, while animations are the effects that happen when you add or remove objects from a slide. These two PowerPoint features help keep the movement between information and slides smooth and seamless.
Adding transitions between your slides signals to your audience that it is time to move on. There are many eye-catching transitions to choose from in the Transitions tab in PowerPoint to have your desired effect. Check out the super cool morph animation!
Adding animations to certain objects on your slides helps the information to be more memorable. This will allow you to reveal or take away information on the slides as you wish, creating a more dynamic PowerPoint presentation.
How to Implement
Select a Transition from the Transitions tab and a quick preview will appear on the slide. Apply the same transition to all your slides with the button on the top ribbon, or go through and add a new one to each slide.
To add an animation, click on a shape, text, or image. In the Animations tab, choose between animations for entering, during, or exiting. Once an animation is clicked, you will see it as a preview. Once you have chosen the correct animations, you can edit the order they appear in the Animations Pane window.
For more inspiration and how to, check out this blog on 8 Quick & Easy PowerPoint Animations!
For more expert tips, tutorials and free templates for interactive PowerPoint presentations, read this Expert Guide to Interactive PowerPoint, with free 60+ pages playbook for download.
When Presenting
1. Use Ice Breakers
To get your audience comfortable with interacting with you right from the start, begin your presentation with an ice breaker. Ice breakers that bring in all audience members to participate will create a safe, inclusive environment and set the tone for the rest of the presentation. Ice Breakers can be done verbally, or through EdTech tools that allow for every audience member to participate.
How to implement
Ask your audience non-serious questions like a speed dating introduction, a fun would you rather question, or any of these other fun ice breaker ideas. With a tool like ClassPoint, these questions can be inserted right in PowerPoint to get all participants involved in the ice breakers. We recommend trying Word Cloud for a quick and easy ice breaker. Click on the question type icon in the PowerPoint ribbon to add the button to your slide. During your presentation, run the question and get instant responses from your participants.
2. Drag Slide Objects
Similar but different to animations, try draggable objects and interact with your slide by freely moving around the objects! Enable any shape, image, illustration, text on your slide to become draggable live during presentation mode! This dynamic feature of presentations can help create visual interest and capture the awe & attention of your audience, and can be useful in explaining complex ideas.
Furthermore, it can be used to reveal hidden information, as a moveable marker indicating where you are on your slide material, or used as a group drag & drop activity. Match, categorize, sort etc. and either do it yourself to explain in a visual manor, or ask your audience to tell you what to move or have them come up and move your images or text themselves!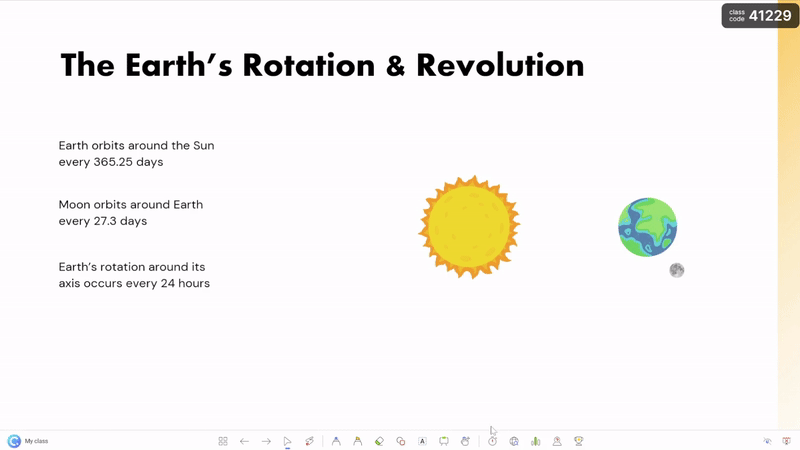 How to implement
Draggable slide objects is a unique tool that is possible inside PowerPoint with the use of the add-in ClassPoint. It is free to download, and once you do all you need to do is design your slide, then select your desired objects and toggle: Drag enable found in Draggable Objects in the ClassPoint tab on the PPT ribbon.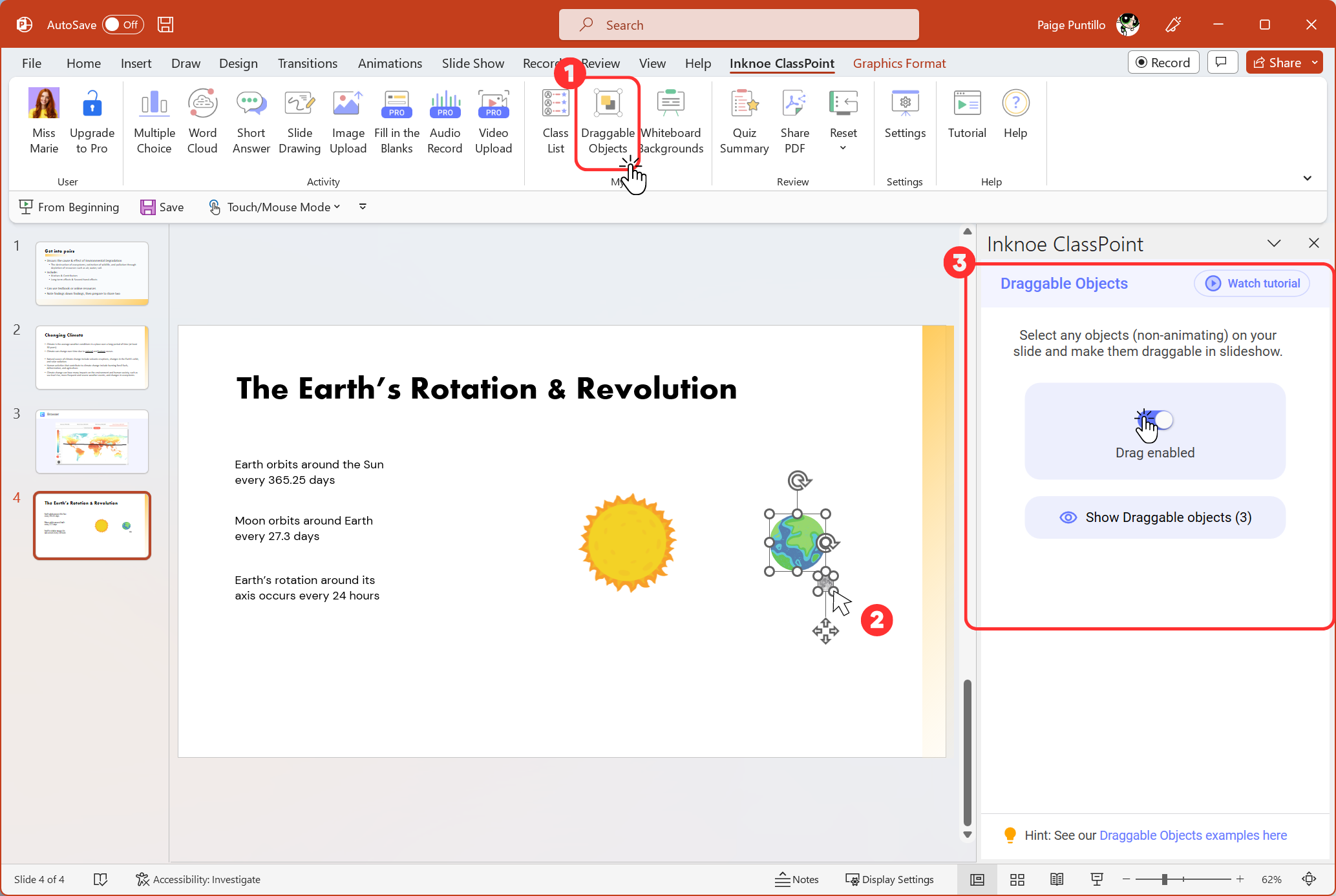 Then in presentation mode, click on the draggable objects hand from the ClassPoint toolbar (added to the bottom of your presentation) and freely drag your objects around!
Get more details on these draggable objects steps here. 👈
3. Create an Interactive Quiz
A perfect way to implement interactivity between you and every member of your audience is to add an interactive quiz that your audience can participate in. This is an excellent way to test your audience's understanding of the material while keeping them engaged. Plus, the real-time responses can help you adjust the pace of the presentation if needed and better ensure that your audience grasps the information.
To create an interactive presentation with interactive questions, without having to leave PowerPoint for another tool such as Quizizz, you can use ClassPoint, a free PowerPoint add-in! ClassPoint includes 8 different types of questions you can run too including multiple choice, word cloud, slide drawing, and video upload.
These interactive quiz questions can also be turned into a quiz competition to be used to review and test your students' knowledge. Gamifying aspects in your classroom allow students to learn new things in an exciting way! Learn how to make your own quiz competition in ClassPoint.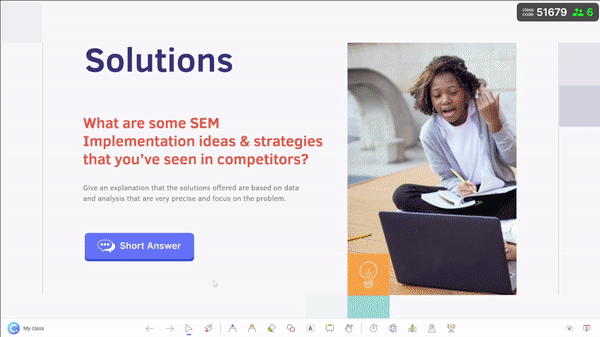 How to implement
To make your slide an interactive question slide with ClassPoint, you just need to add your question to your slide, then add the activity button from the Inknoe ClassPoint tab in PowerPoint ribbon. Adjust the few question settings, such as setting a correct answer or choosing to hide names, and it's ready!
Once you are live with your audience, they can join your class with the class code found in the top right corner of your slide, and participate in your presentation questions!
4. Poll Audience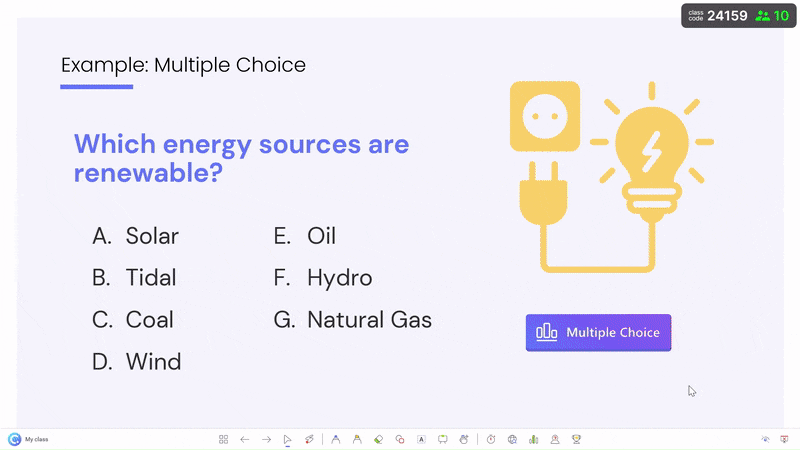 Similar to running question activities, poll your audience during your presentation to bring their opinion, group data, or feedback into your presentation! Polling is both inclusive and engaging for your audience to participate and helpful for you!
The at-a-glance poll results can give you new information making your presentation timely & unique, or adjustable based on feedback. You can ask their opinions on a topic, use it to help make decisions, or to compare and contrast a statement. This feedback can keep your content aligned with what the audience not only wants, but needs.
How to implement
There are many online polling tools, but for a quick and convenient poll inside PowerPoint, use ClassPoint's Quick Poll! The free PowerPoint add-in allows you to run a poll & view results without having to break your presentation. To run it during your presentation, click the Quick Poll icon on the Classpoint Toolbar and select the type of poll you want to ask your audience. Audience members can join your class using the class code on the top right corner of your slide and then submit their response. Easy peesy.
5. Let Audience Make Decisions
Try getting your audience more involved in your presentation by giving them more freedom and power to choose how and when you share information. Create a choose your own adventure presentation to let the audience decide which path to take. Maybe there is a choice for them to choose between watching a video or discussing images during the presentation. Giving your audience more control of how the presentation will run gets them to be a more active member of the presentation.
How to implement
To implement this, you can make use of polling as shown in the previous point. One example is to show your audience a table of contents at the beginning of the presentation and poll them on which section to go over first. Depending on how the polling results return, you can easily jump between sections and back to the main page.
6. Annotations
Annotations are another great way to engage your audience during your PowerPoint presentation. Annotations are notes or drawings that you can add to your slides during the presentation. This is particularly useful when you want to highlight a specific point or emphasize a particular aspect of the content.
How to implement
Within PowerPoint, there are 3 different ways you can do this:
The Draw tab
Use this way in PowerPoint Edit Mode. Go to the Draw tab and begin annotating anywhere on your slides. This way gives you some extra features, like Ink to Shape; however, the downfall to this is that you won't be able to have your slides full screen.
PowerPoint pen tools while presenting
Use this to annotate full screen while presenting with limited capabilities. When presenting your slides, hover over the pencil in the bottom right-hand corner and choose your writing tool.
ClassPoint toolbar
For more flexibility and customization, upgrade the PowerPoint pen tools to the ClassPoint add-in's annotation toolbar! With ClassPoint, you can add text boxes and shapes, and adjust the color and thickness of the pens & highlighters with a quick click. Once downloaded for free, ClassPoint adds a toolbar to the bottom of your slides to improve your presentations! This also comes with whiteboards as well as other handy teaching tools dropped into PowerPoint such as name picker, timer, and an embedded browser.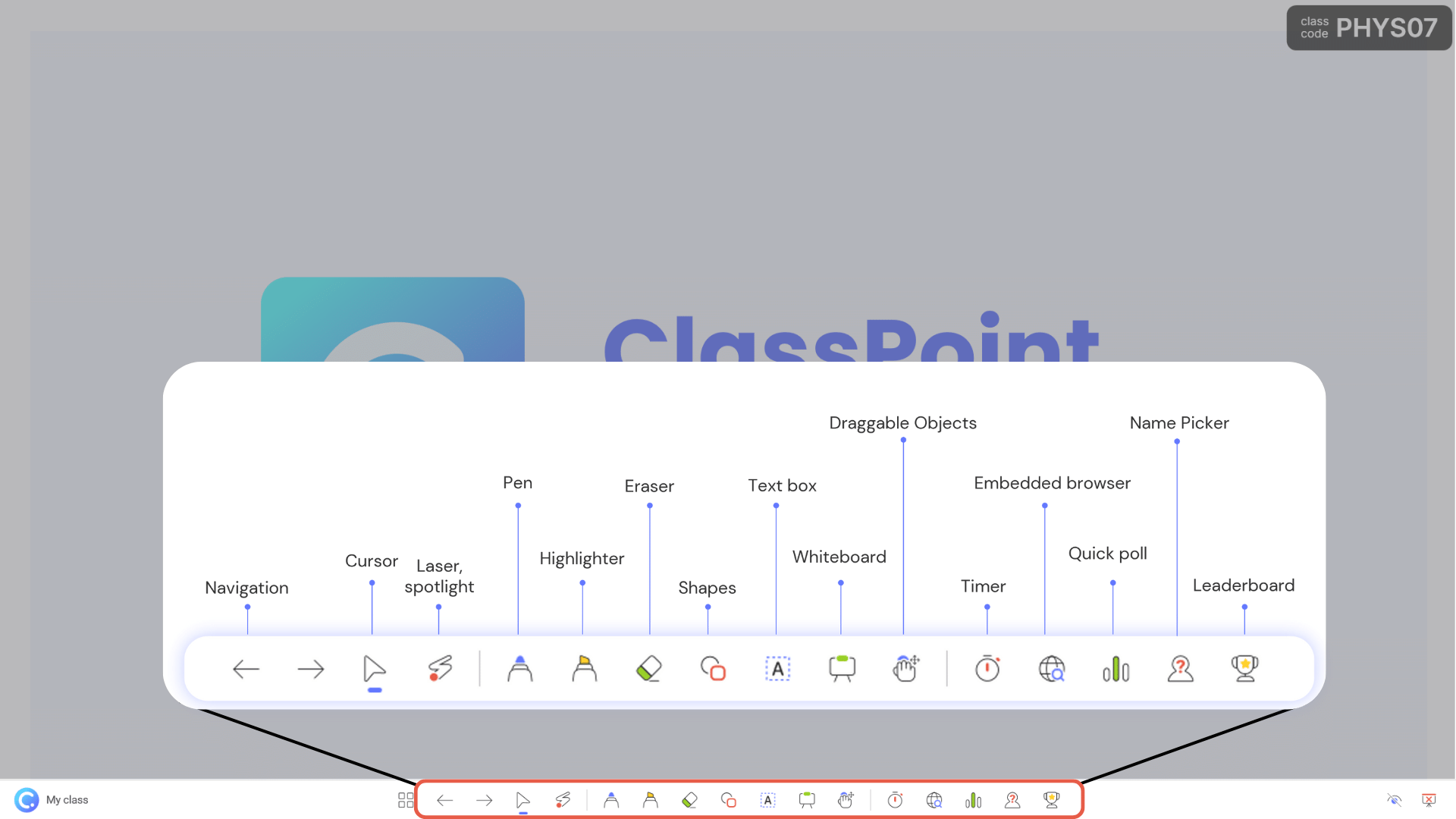 Using annotations can also help to keep your students engaged and focused on the material. They can help to break up the presentation and make it more interactive.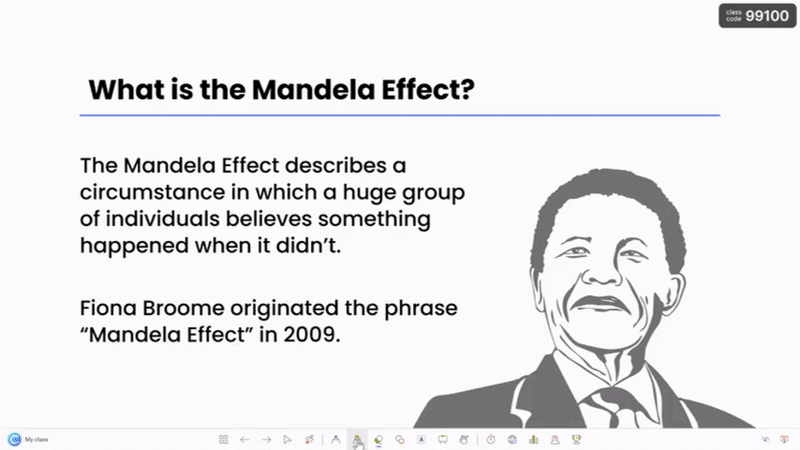 After Presenting
1. Discussion Questions
Adding interactivity through discussion questions after a presentation is a powerful technique to engage your audience and deepen their understanding of the content. Once your presentation concludes, invite your audience to participate in a meaningful dialogue by posing thought-provoking questions. These questions can encourage critical thinking, spark debates, and enable participants to share their insights and perspectives.
By doing so, you transform your presentation from a one-sided communication into an interactive exchange of ideas. This approach not only keeps your audience actively engaged but also allows you to address any lingering doubts or queries, fostering a more profound connection with your listeners.
How to implement
With any sized group, a Short Answer quiz or Multiple Choice quiz is a good start. Once the responses are received, you can star any responses to highlight them in a discussion. Try inserting any or all responses as a slide, and annotate on the slide with the main points that arise during your discussion!
2. Data Visualization
Incorporating interactivity through data visualization after a presentation concludes is a potent strategy for enhancing audience engagement and comprehension. Once the primary content delivery is complete, you can transition into a dynamic display of data or feedback you have gathered from your audience using interactive charts, graphs, or infographics.
This approach empowers your audience to explore the information at their own pace, dig deeper into specific data points, and ensure a two-way communication between the presenter and the audience. Whether it's zooming in on specific trends, toggling between different data sets, or going through feedback, interactive data visualization encourages active participation and a deeper connection with the presented information.
Depending on the level of detail, you can charts or graphs can be created inside PowerPoint to match the theme of your presentation. And you can even add animations to show data changes or trends in an interactive & engaging way.
How to implement
There are many ways to utilize data into your presentation: first you can create tables, charts and graphs right in PowerPoint with the insert tab, like mentioned above. Second, you can just screenshot or save data sets as an image and paste it onto your slide.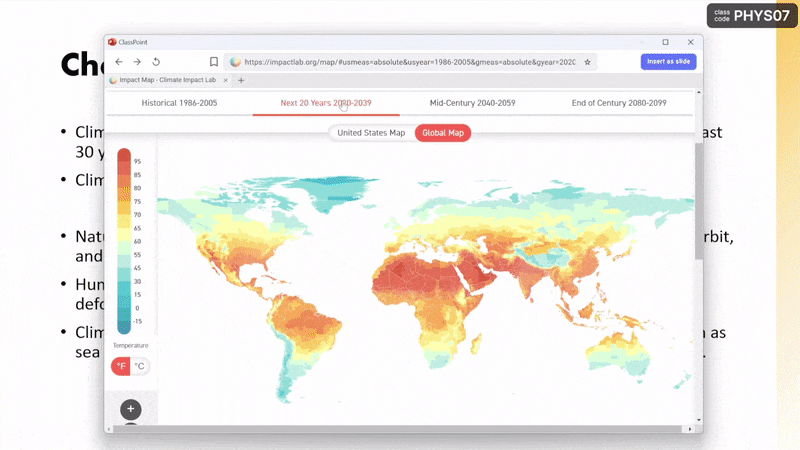 Third: you can embed a website with data you want to go over. I'm not talking about a link that leaves PowerPoint for your default browser! An actual embedded browser that loads websites, allows you to search and open multiple tabs too. It's also easier than building a chart in PowerPoint, just use ClassPoints built-in browser from the toolbar and pin the website with the graph. It's the same as leaving your PowerPoint for the internet, except now you don't have to leave! Plus you can insert the page as a picture into your slide for you to annotate on.
For more expert tips, tutorials and free templates for interactive PowerPoint presentations, read this Expert Guide to Interactive PowerPoint, with free 60+ pages playbook for download.
Conclusion
Did you find something that can work for your next presentation? We hope so! Let us know how it goes and how your audience enjoyed becoming a critical piece of your presentation.
And if you haven't heard of ClassPoint yet, be sure to check it out and let it solve some of your problems by adding interactive tools to your PowerPoint! Happy presenting! 😁👇