Table of Contents
In today's digital age, the integration of AI tools in education has become increasingly vital. Teachers can utilize AI tools to enhance the learning experience, engage students in innovative ways, and provide personalized support.
ChatGPT is the leading AI chatbot tool for education, but it doesn't have to be the only tool in your classroom. There are many ChatGPT alternatives that can be used to enhance your instructional practices and engage students effectively. By embracing these alternatives, you can unlock a world of possibilities and take your teaching to new heights.
In this blog post, we will explore 46 of the top ChatGPT alternatives for educators, helping you to find the best AI tools to use in the classroom. From personalized student feedback to virtual tutoring, these ChatGPT alternatives can take your teaching journey (& your students' learning journeys!) to the next level.
Why Explore ChatGPT Alternatives?
There are hundreds of ways that ChatGPT can be used in the classroom. But while it has undoubtedly revolutionized the field of artificial intelligence and language processing, it does come with some limitations when used in an educational setting.
ChatGPT is not 100% accurate, so you must take the time to double-check responses when given.
ChatGPT requires an internet connection to function, making it inaccessible in areas with limited or no internet access.
ChatGPT is just one tool, limiting your scope of possibilities.
Exploring ChatGPT alternatives can provide educators with a diverse range of AI tools for the classroom, catering to different needs, preferences, and learning styles. Learn more about ChatGPT, or start by taking a look at the other tools you can incorporate below.
---
46 Best ChatGPT Alternatives (Save Them Now!)
| AI Tool Category | ChatGPT Alternatives |
| --- | --- |
| Lesson Plan Generators | Education Copilot, Nolej, LessonPlans.aI |
| AI Presentation Makers | Presentations.AI, Decktopus AI, Slidesgo |
| AI Image Generators | Bing Image Creator, Canva Magic Design, Runway |
| AI Video Creators | Pictory, Descript, Speechify |
| AI Quiz Generators | ClassPoint AI, ExamSoft, QuizGecko |
| AI-Powered Tools Across the Curriculum | Knewton, WordTune, Wolfram Alpha, Hello History, Parlay Genie |
| AI Assessment Helpers | Formative AI, Exact Path |
| AI Grading Tools | Gradscope, TurnItIn AI, SmartGrade |
| AI Tutors | Khanmigo, Synthesis |
| AI Coaching Tools | Edthena, Rocky.AI, PowerPoint Speaker Coach |
| AI Writers | Jasper, Copy.ai, Anyword |
| AI Language Learning & Translators | Duolingo Max, ELSA Speak, Replika |
| AI Researchers | Genei, Consensus |
| AI Note-Taking Aids | Otter.ai, Mem, Airgram |
| AI Productivity Hacks | Reclaim AI, SaneBox, Zapier, MagicSchool.ai, Khanmigo |
ChatGPT Alternatives
Lesson Plan Generators
Plan more creative lessons: Education Copilot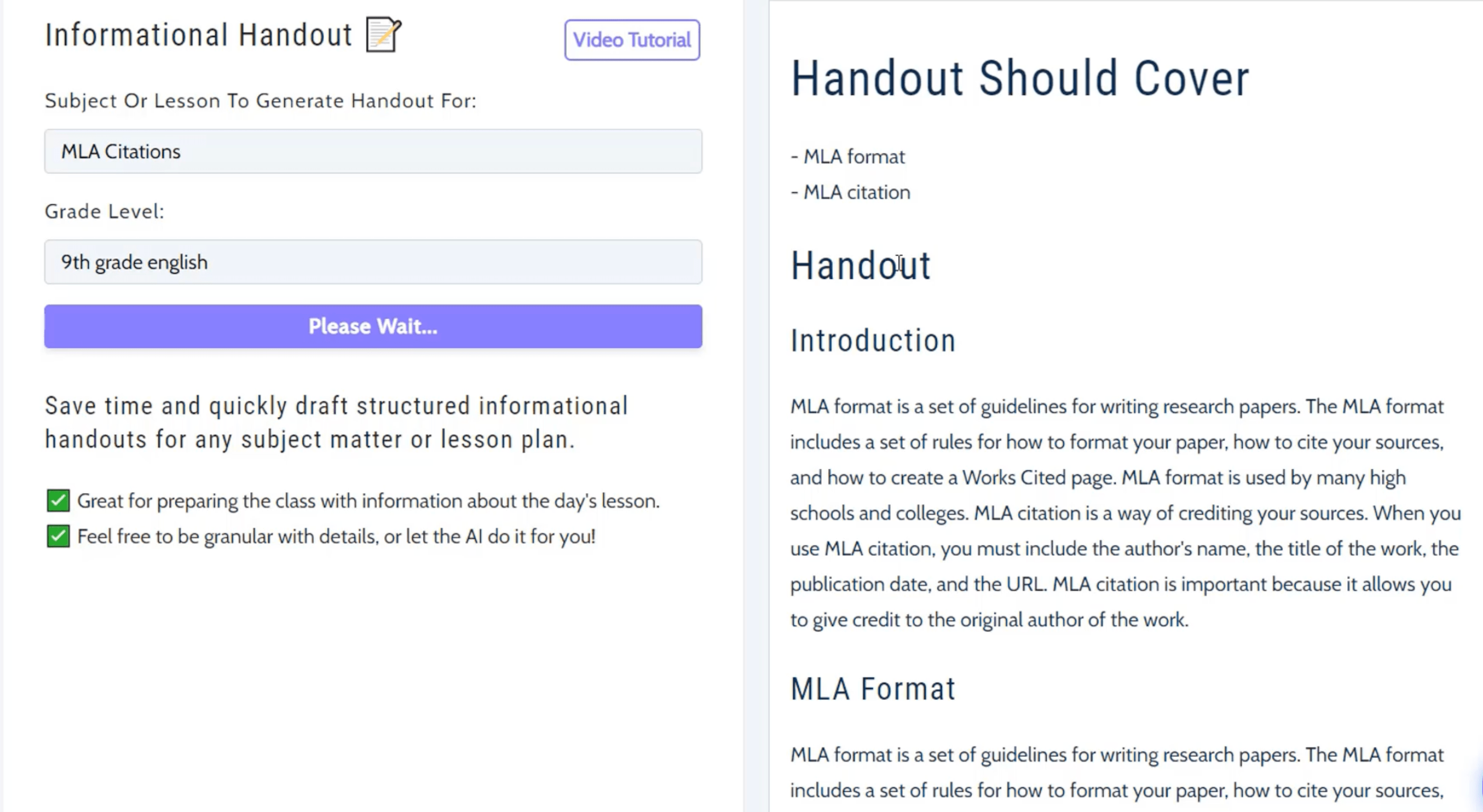 What is it: Education Copilot uses AI to generate structured lesson plans as well as help create lesson material that is personal to your own style and fits your student's needs.
How it works: List your subject, topics you would like to cover, and the number of lessons to include in the unit. Then, watch AI do the work and adjust as needed.
Pricing: 30-Day free trial or $9 per month for more AI templates, document editing, and auto-saving.
2. Create Course Material, videos, and interactive questions: Nolej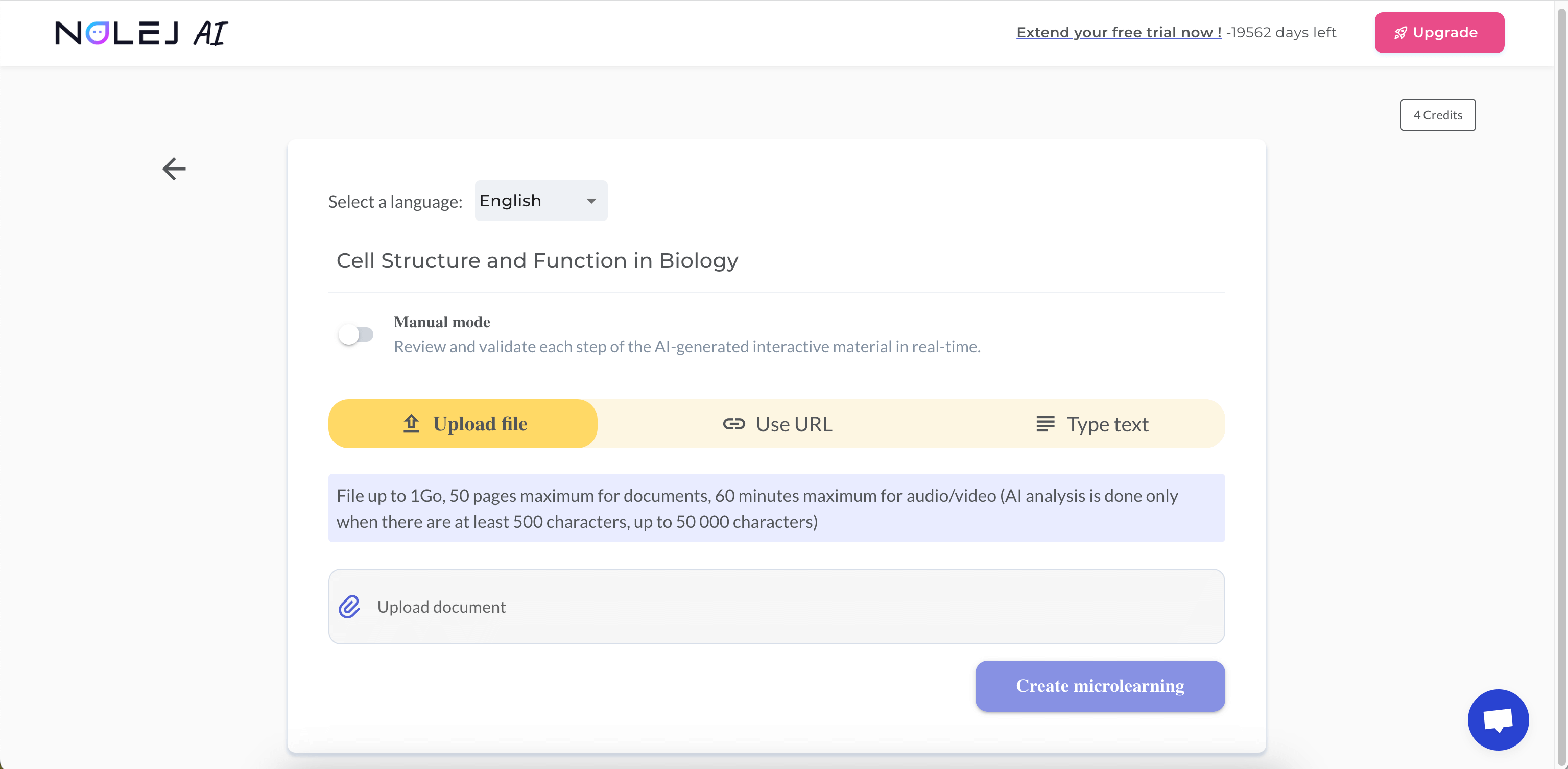 What is it: Nolej generates interactive courses, videos, and assessments to be embedded in your favorite Learning Management System (LMS).
How it works: Paste a URL for videos, text, audio, or PDF files for the AI to analyze. When complete you will have course material, study material, and interactive questions.
Pricing: Free 10-Day Trial or upgrade to Pro on a monthly or yearly basis starting at $20 per month.
3. For well-thought lesson outlines: LessonPlans.aI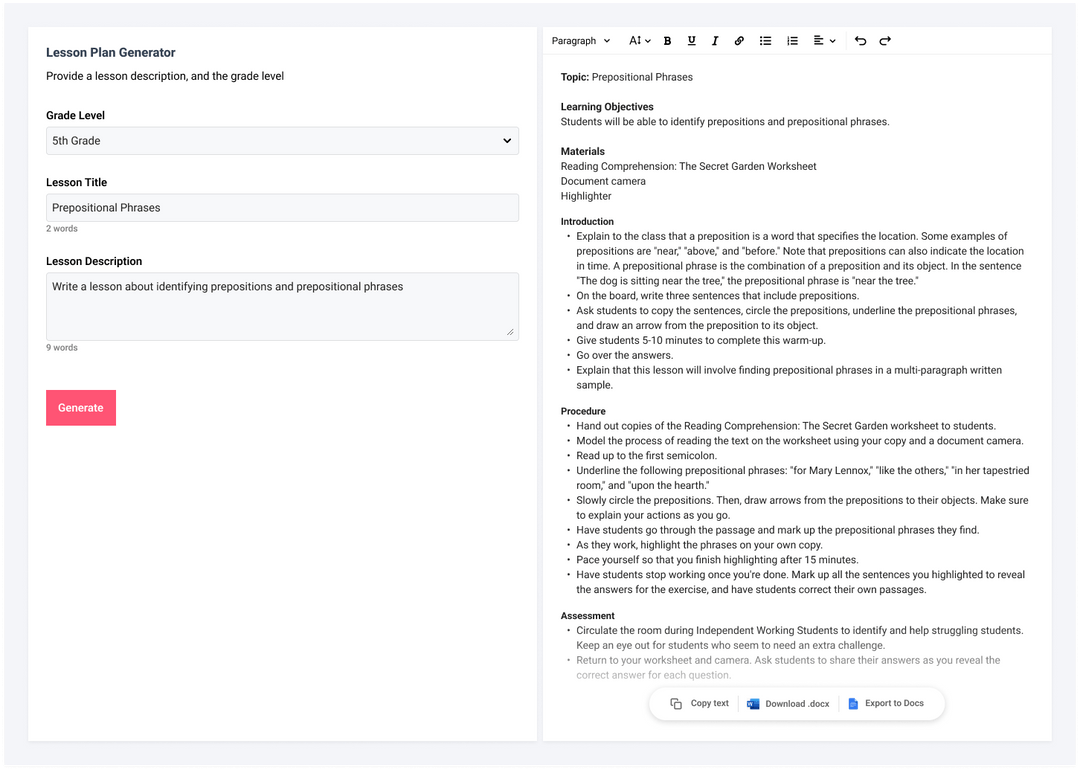 What is it: Developed by teachers, for teachers, LessonPlans.AI allows you to kickstart your lesson planning for any grade.
How it works: Simply input your desired grade level and lesson description and receive an outline of a sample lesson. It will include any materials you need, warmup activities, and instructional material for the lesson.
Pricing: 7-day free trial or $20 per year to create up to 100 lessons per year.
---
AI Presentation Makers
4. Generate lesson presentations in seconds: Presentations.AI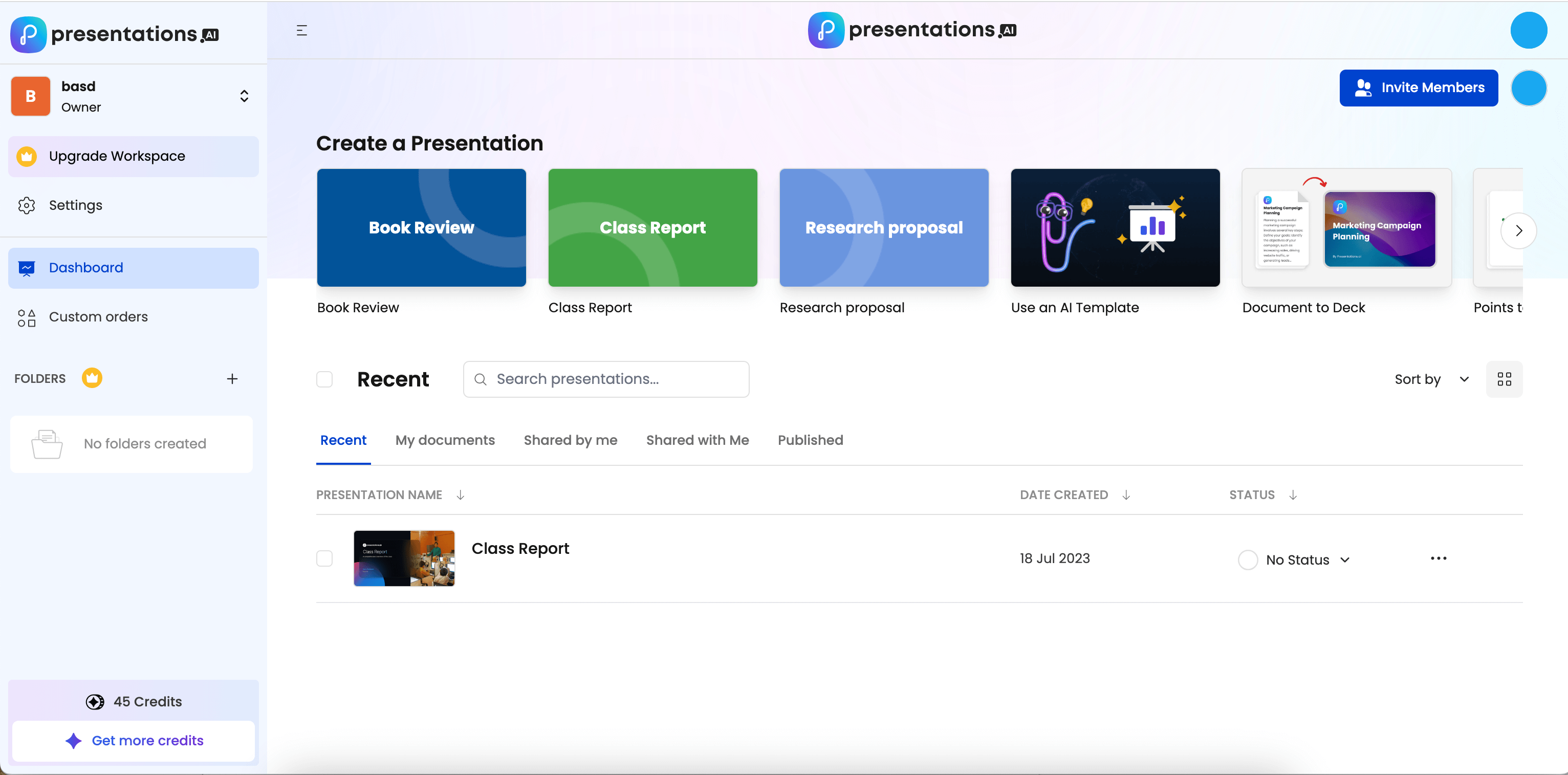 What is it: Presentations AI creates creative, professional-looking slide decks based on your text inputs. Present and collaborate within the tool for instant results.
How it works: Choose a template style, add your slide list, and let AI present you with a new Presentation. You can edit the text, images, and colors, and even add more content to be included after the initial generation.
Pricing: Free for a limited time. For more users, analytics, and templates, upgrade to Pro for $400 per year.
5. Create presentations with AI content and designs: Decktopus AI
What is it: Decktopus AI allows you to create and edit a presentation in seconds. Decktopus makes presentation deck creation and editing easy to help you save time in your lesson creation process.
How it works: Type in your desired subject, type or choose your audience (they have great suggestions!), select a desired aim, time limit, and theme and receive a curated deck! These steps allow the AI to tailor the deck it creates to your needs.
Pricing: Forever free with a 100 credit AI limit. For more AI-created decks, upgrade to Pro for $10 per month.
6. AI-generated slide designs: Slidesgo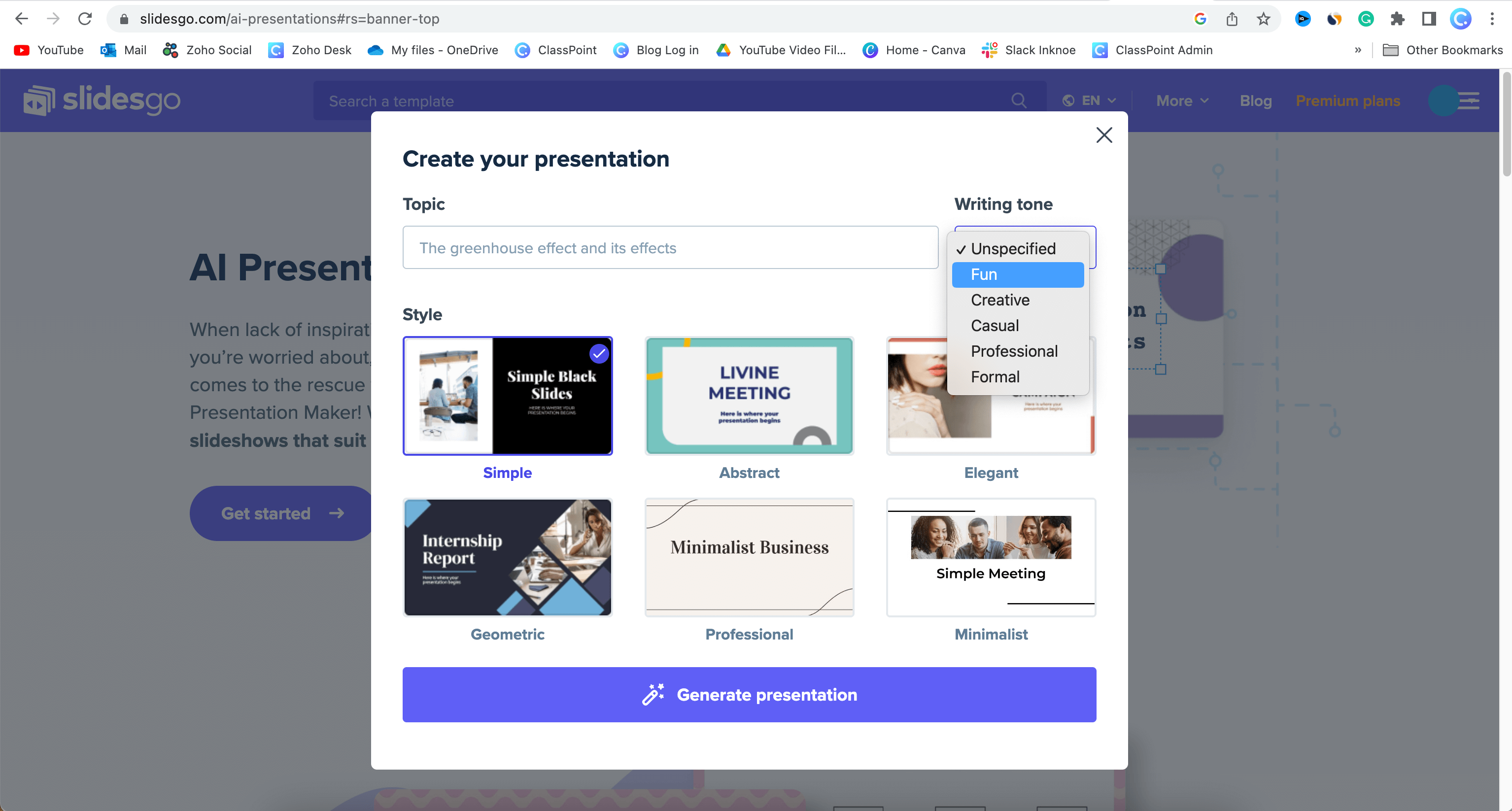 What is it: Most known for its downloadable Google Slides and PowerPoint presentation decks, Slidesgo now has its own AI feature which allows you to create stunning presentation decks in a few clicks!
How it works: Start by choosing a topic, style, and tone for your presentation. Once generated, add your content, and adjust any images, icons, and colors as needed.
Pricing: Free! For $24 per year, upgrade to Pro to access thousands more templates.
Not finding what you are looking for? Check out these 9 other free AI PowerPoint generators!
---
AI Image Generators
7. Generate interesting images for your lessons: Bing Image Creator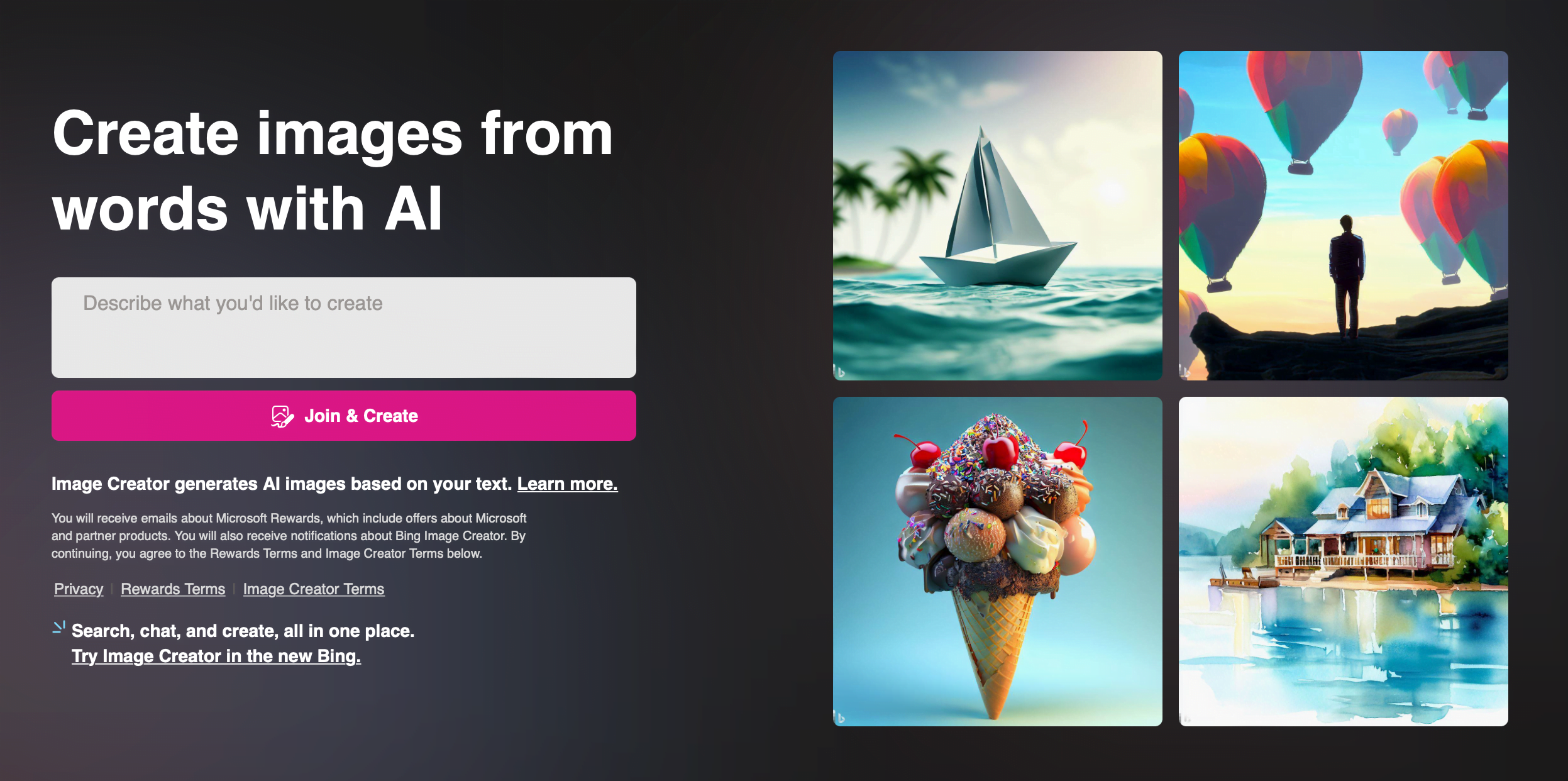 What is it: Bing Image Creator brings together a collection of internet images to produce something entirely new based on your text input.
How it works: Type in the kind of image you would like to create, for example "an ant climbing a tree in the fall." The AI will create 4 options and you can customize it through Microsoft Designer.
Pricing: Free. Start with 100 boost credits to create images faster, as you create, boost credits will decrease.
8. Photoshop for Everyone: Canva Magic Design

What is it: Canva Magic Design is a photo editor with no learning curve. The AI can help remove, add, or adjust parts like a professional Photoshop editor!
How it works: Upload any photo of your choice and Canvas Magic Design tools will provide a wide range of edited and ready templates for you to choose from. It is as easy as that! Download and use in your lessons.
Pricing: Free for teachers!
9. Generate Images and Videos: Runway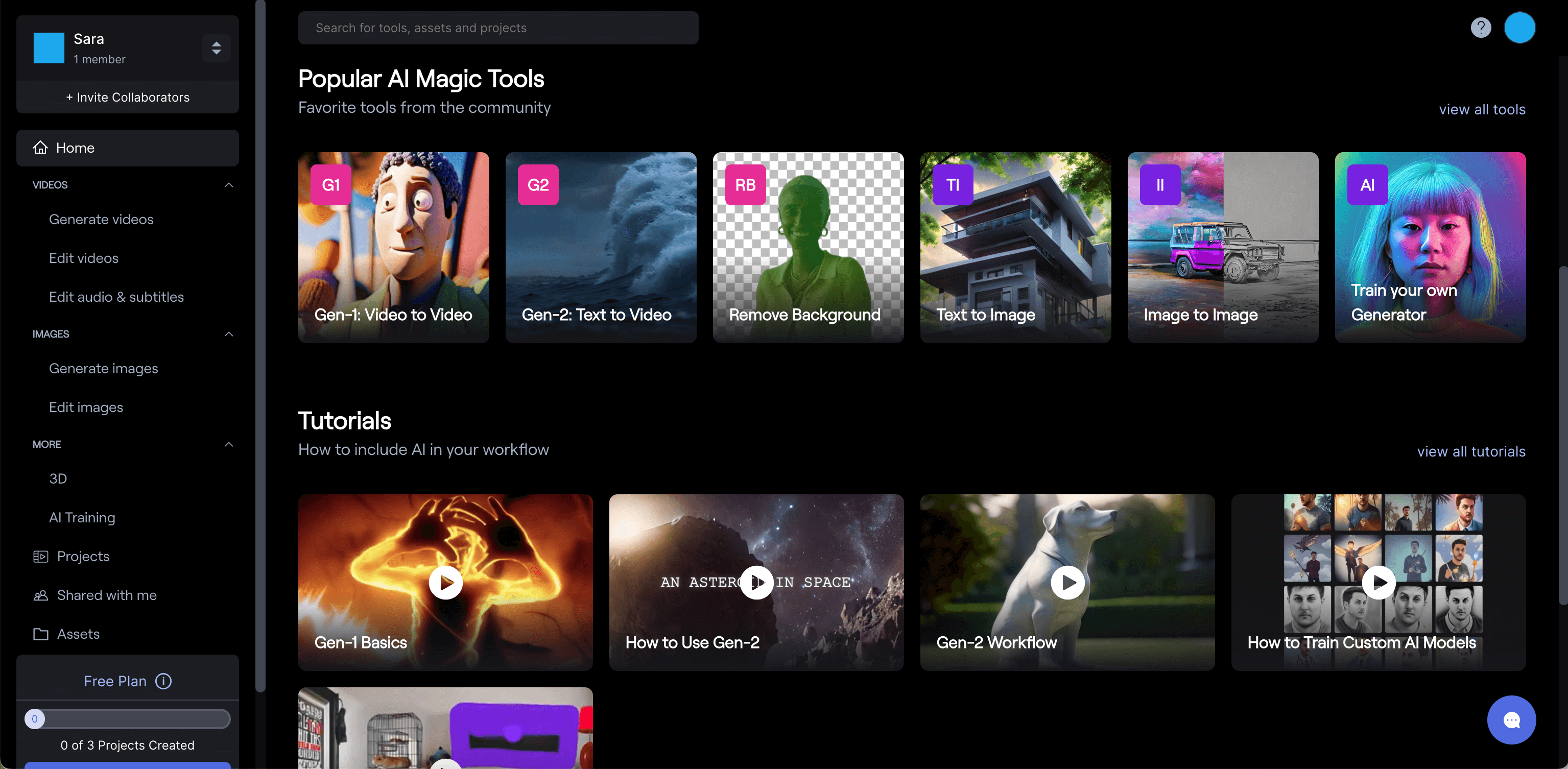 What is it: Runway generates images and videos based on text, other images, or videos. Alternatively, you can also train the AI to produce the media you would like.
How it works: Input your text or provide Runway with existing images and videos you want to enhance. Select your resolution, a number of preferred options, and watch your ideas come to life! As simple as that.
Pricing: Free for 125 credits, then upgrade for more credits, better resolution, and editing features starting at $144 per year.
---
AI Video Creators
10. Turn Lessons into Video: Pictory AI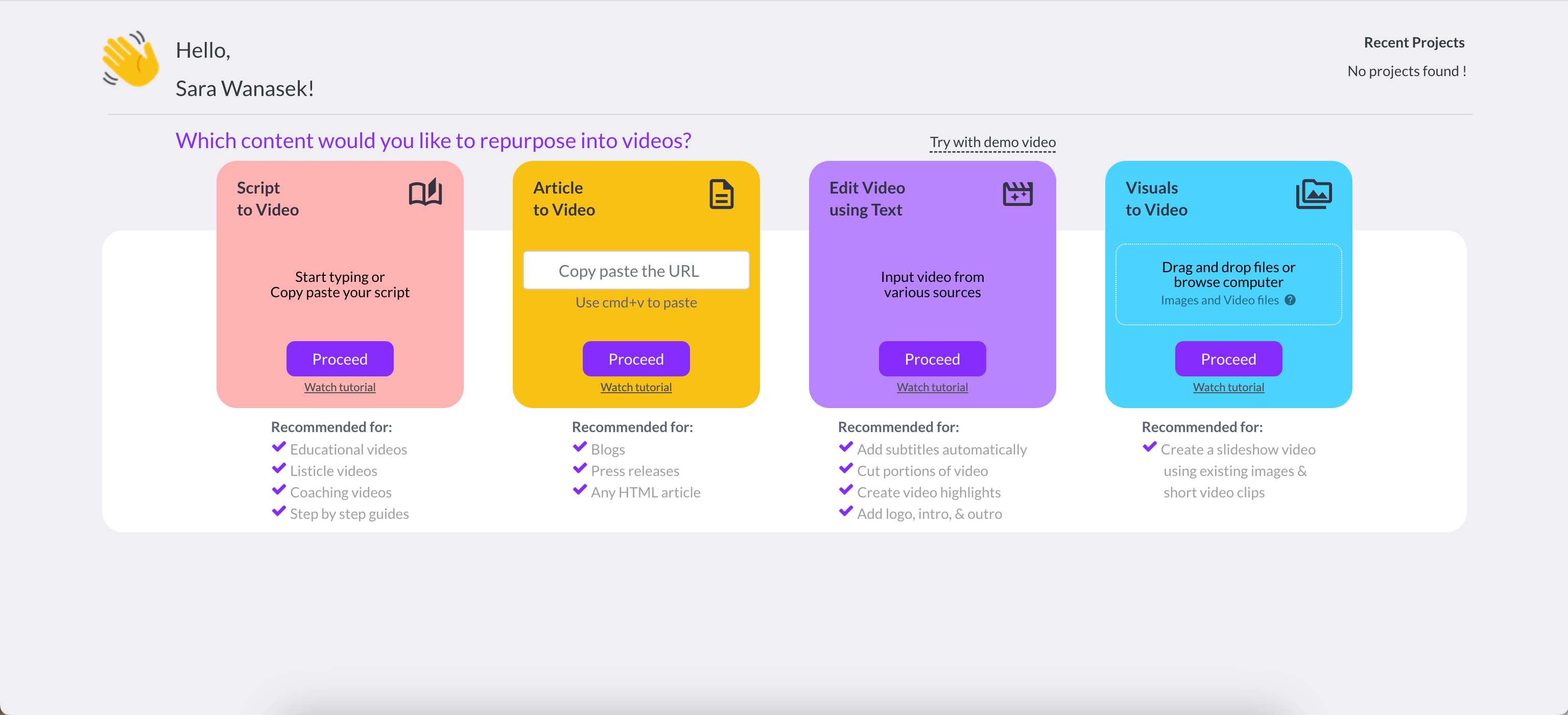 What is it: Pictory AI allows you to create videos from an article or script to turn any ordinary lessons into an exciting journey to engage your students.
How it works: Input your text to create short talking-style videos or highlight reels, or use Pictory AI to summarize pre-existing videos. Edit the videos generated using only text – no video editing experience needed!
Pricing: Free trial for 3 video projects or $19 per month for up to 30 video projects.
11. Edit video lessons: Descript
What is it: With Descript, you can easily edit your videos from an auto transcription. No need to learn video editing skills to prepare your video recordings for viewing.
How it works: Transcribe your video, then edit your video only by editing and making changes to the text. Collaborate on videos and export them to share with your audience.
Pricing: Free for 1 video export per month. For unlimited exports and up to 10 hours of audio transcription, the Pro version will cost $144 per year.
12. AI-dubbing: Speechify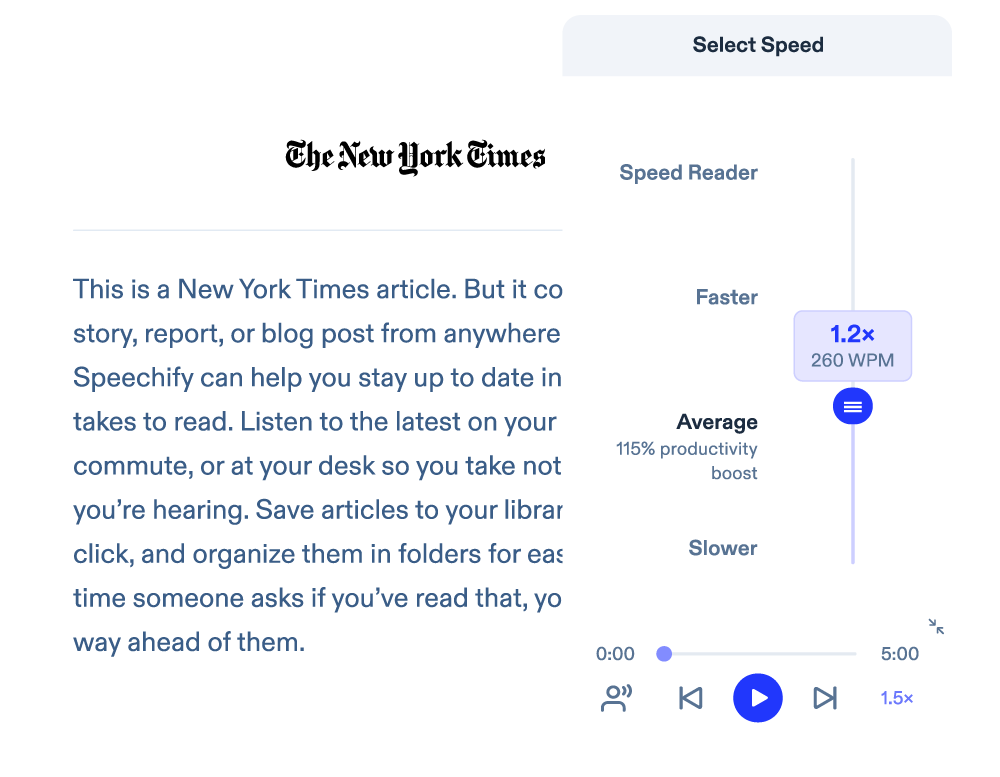 What is it: Speechify allows you to replace audio in your videos with another language effortlessly so you can reach more students with your videos.
How it works: Upload your video from a link or file, choose which language to translate to, then pick your preferred voice.
Pricing: 1 minute of free dubbing, otherwise $33 per month for more features including text-to-speech.
---
AI Quiz Generators
13. Generate instant quiz questions based on PowerPoint slides: ClassPoint AI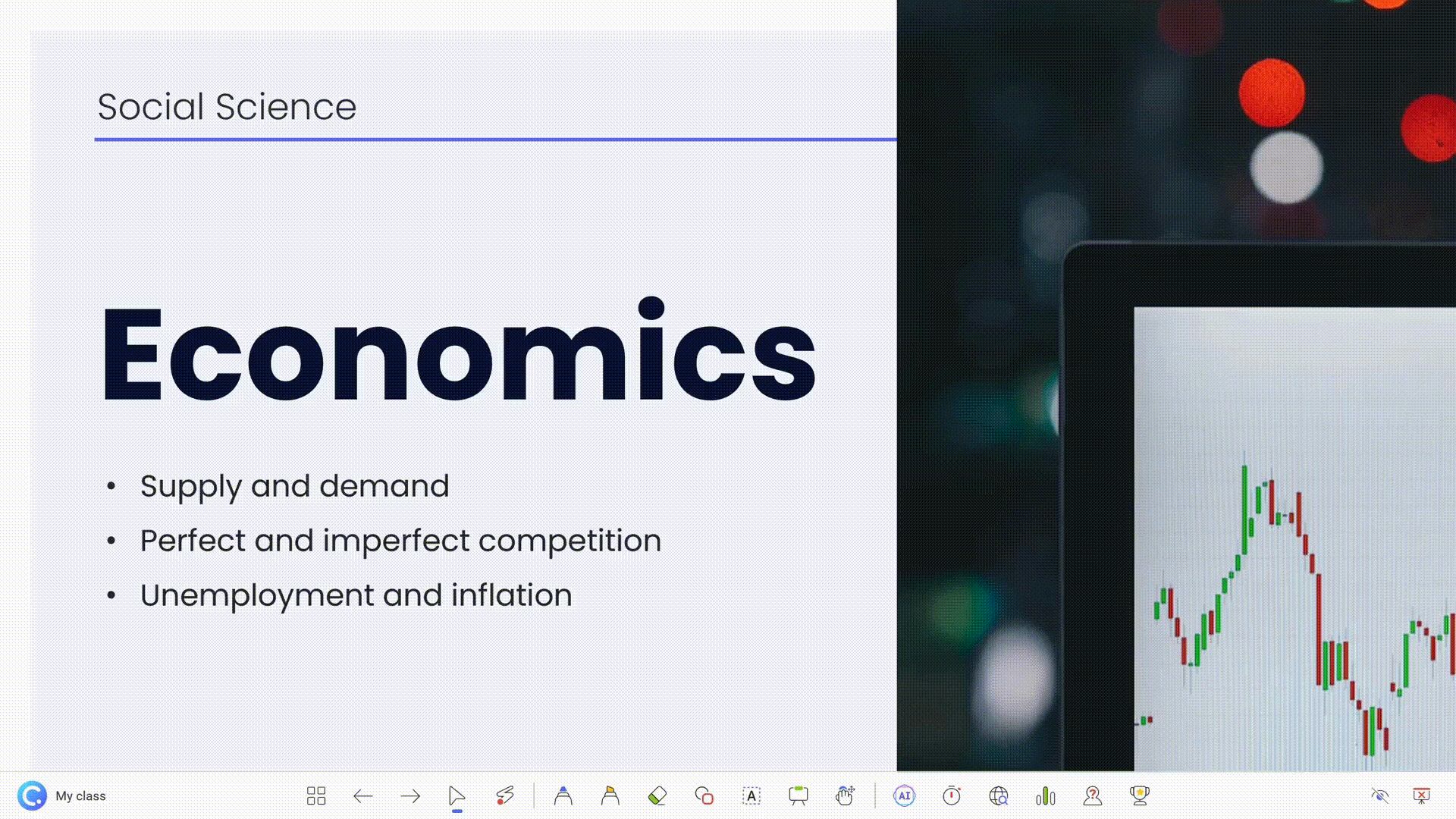 What is it: ClassPoint's AI feature analyzes your PowerPoint slides and generates questions based on the information on your slides. Use the questions during a presentation to get live responses from your audience.
How it works: During your PowerPoint presentation, click on ClassPoint's AI feature on slideshow mode to generate Multiple Choice, Short Answer, or Fill in the Blank questions based on your slide content. Questions can be adjusted according to Bloom's Taxonomy levels.
Pricing: ClassPoint is free to use. To access the AI feature, more interactive questions, and data reports, upgrade to Pro for $96 per year.
14. Quiz taking and tracking platform: ExmSoft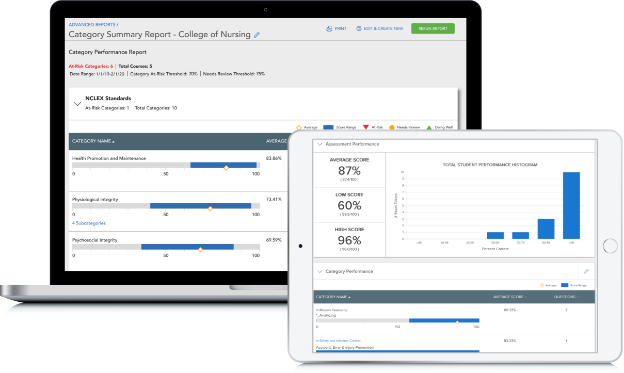 What is it: ExamSoft will help you prep lessons for upcoming exams, tests, and quizzes by creating targeted practice exercises that focus on the areas where your students need the most support.
How it works: Students take their assessments on ExamSoft. It will then analyze your student performance and determine questions to ask that will most benefit their learning.
Pricing: Learn more about individual licenses and schoolwide plans on their site.
15. Create quiz questions based on a text: QuizGecko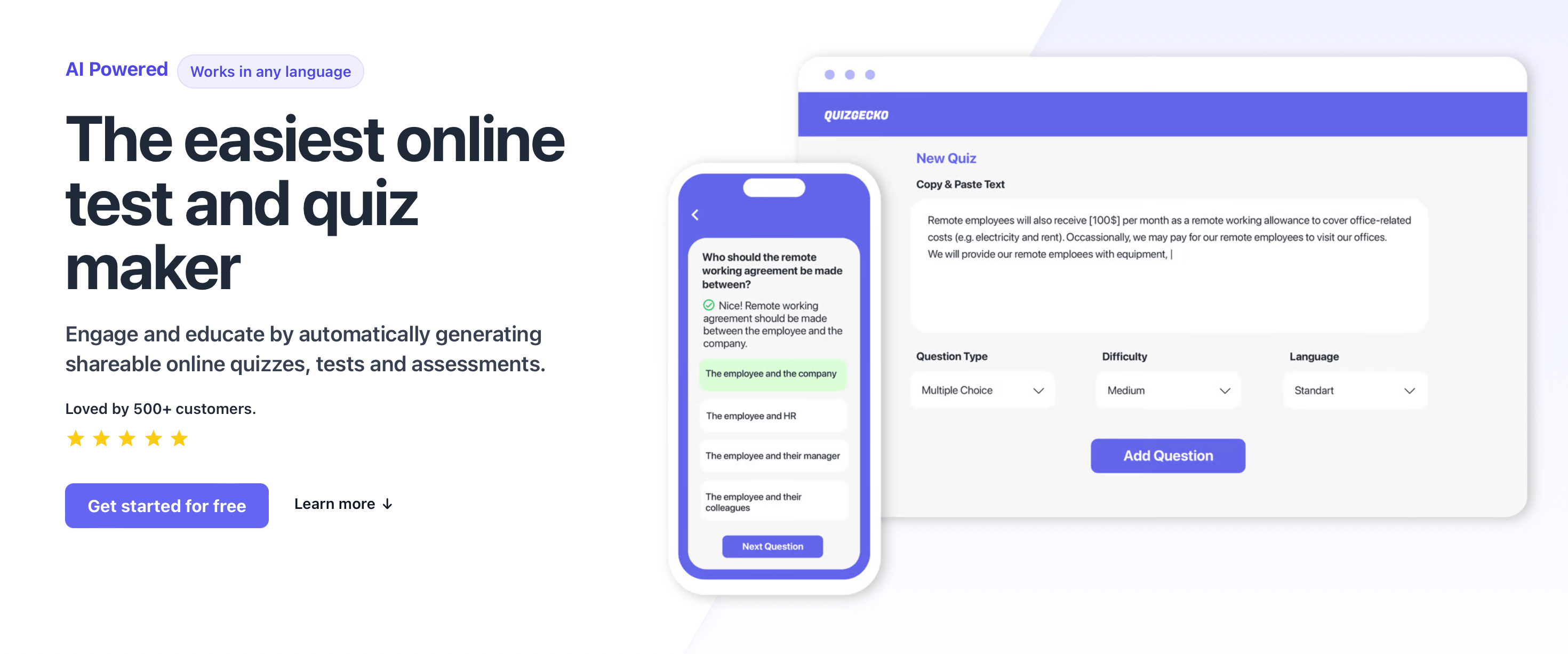 What is it: Create shareable online quizzes, tests, and assessments for students Differentiated Based on the inputted text, videos, or files.
How it works: Upload your content to QuizGecko and choose the difficulty level and question type. An array of quiz questions will then be generated for you to edit and export to share with your students.
Pricing: Free for a limited time. The Pro version is billed yearly at $108.
---
AI-Powered Tools Across the Curriculum
16. Customised learning for STEM subjects: Knewton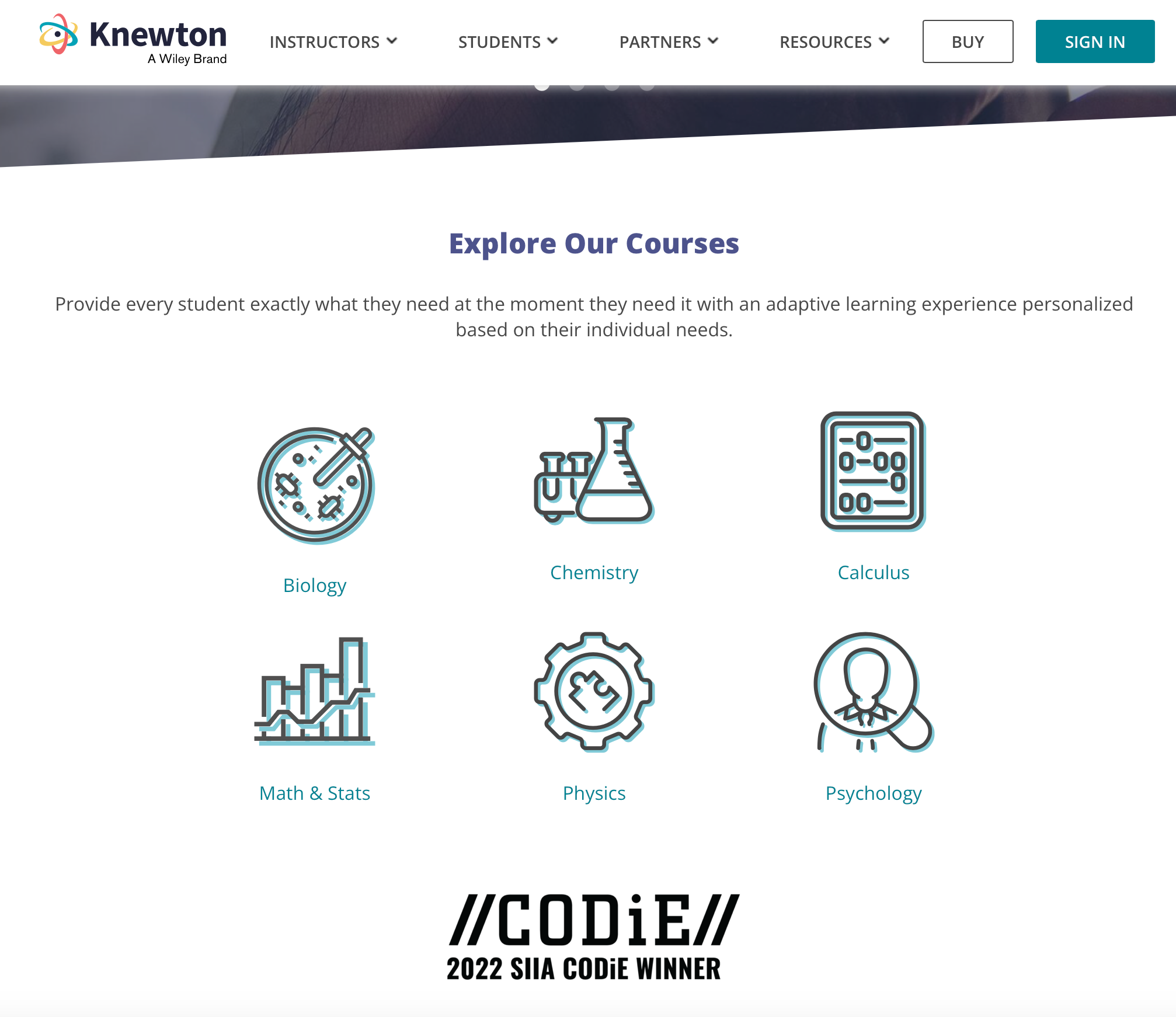 What is it: DreamBox helps you design customized learning paths for students based on their individual strengths, weaknesses, and learning preferences.
How it works: With the use of AI algorithms, Knewton analyzes student data, such as assessment scores, attendance records, and even behavioral patterns, and recommends personalized lessons and activities for students based on their individual learning styles, abilities, and progress.
Pricing: Reach out for a demo and pricing for teachers and students.
17. Elevate and rephrase your writing: Wordtune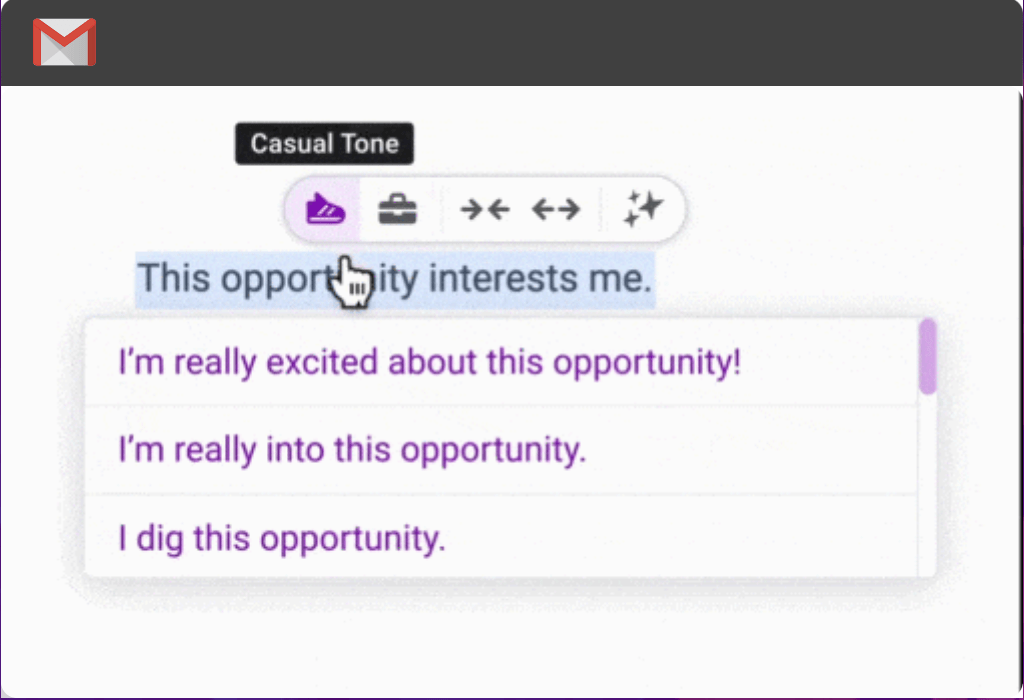 What is it: As the name suggests, Wordtune helps you finetune and paraphrase your writing for clarity, accuracy, and tone improvement.
How it works: Paste your text into Wordtune's text box and adjust the settings to your liking. You can choose to shorten or expand your text, make it more formal or casual, or have AI rewrite parts of the text.
Pricing: Free with 10 rewrites and 3 AI prompts a day. Upgrade to Pro for $25 per month with access to more rewrites and AI prompts.
18. New ways to think about Math: Wolfram Alpha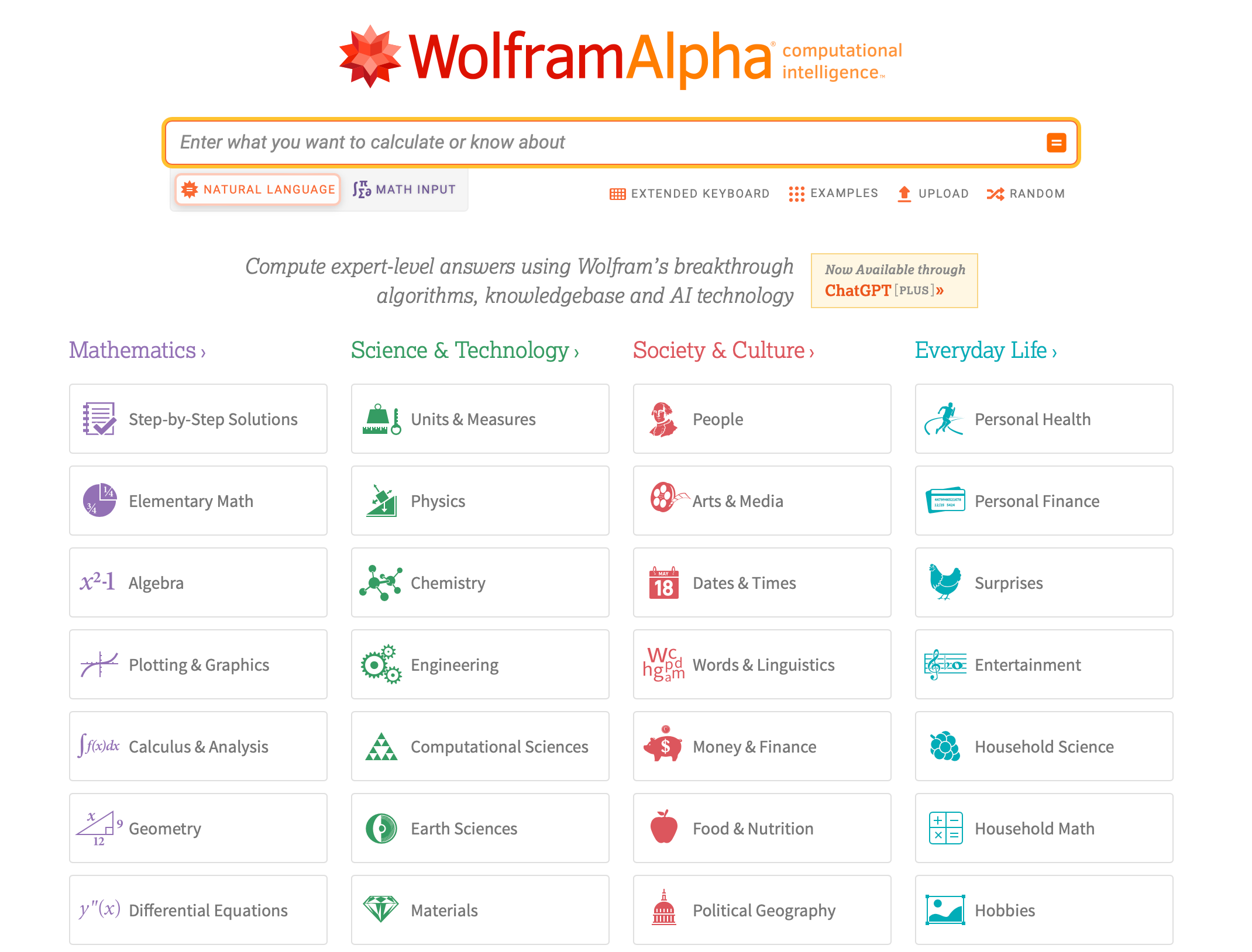 What is it: With Wolfram Alpha, you can access answers and step-by-step solutions for math problems using familiar, replicable methods.
How it works: Input your math problem into Wolfram Alpha and get suggested results and solutions in a variety of comprehensive formats. Use the suggestions to help your teaching, or invite your students to use the AI tool as a tutor or coach.
Pricing: Forever free basic account or upgrade to Pro at $60 per year for more in depth step-by-step solutions.
19. Chat with historical figures: Hello History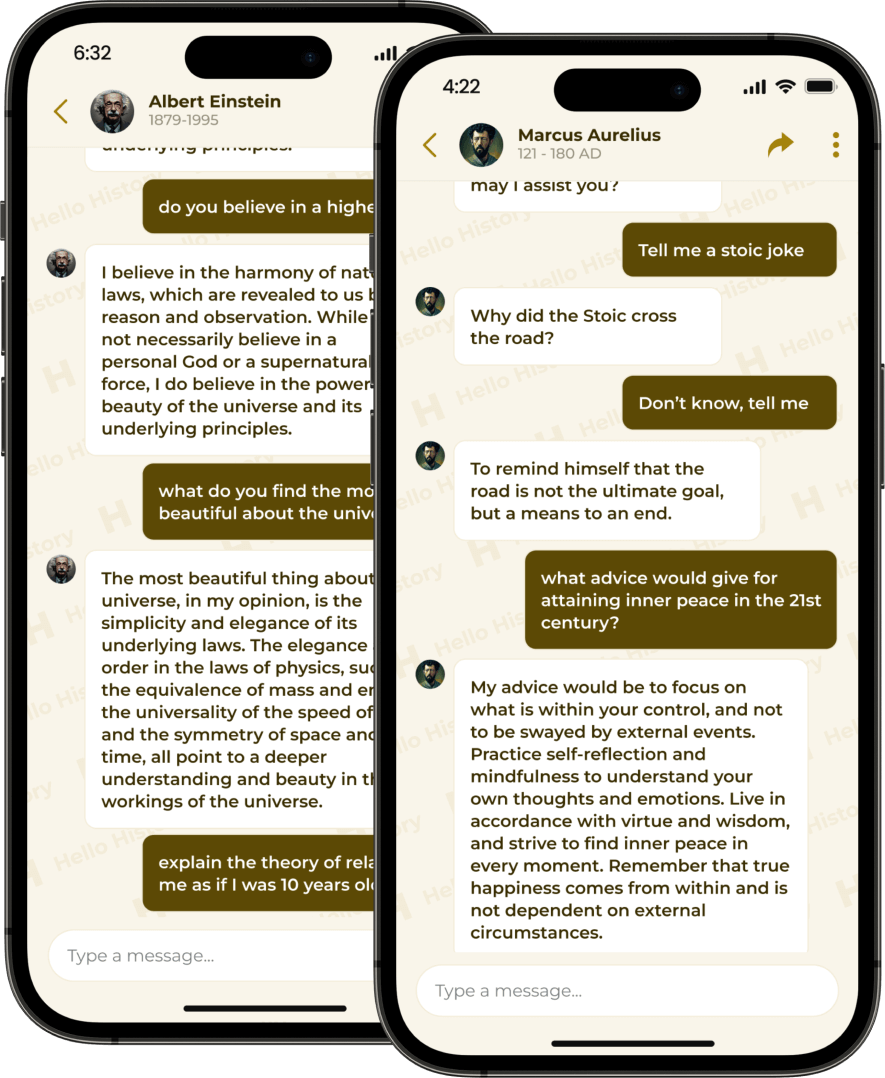 What is it: A fun project for students, Hello History allows them to have unique chat experiences with historical figures like astronomers, philosophers, and scientists.
How it works: Download the app and begin chatting with the figure of your choice. Ask questions, have discussions, or even debate with your person of choice.
Pricing: Free 20 messages or reach out to them for a larger free trial coupon.
20. Have deeper discussions in class: Parlay Genie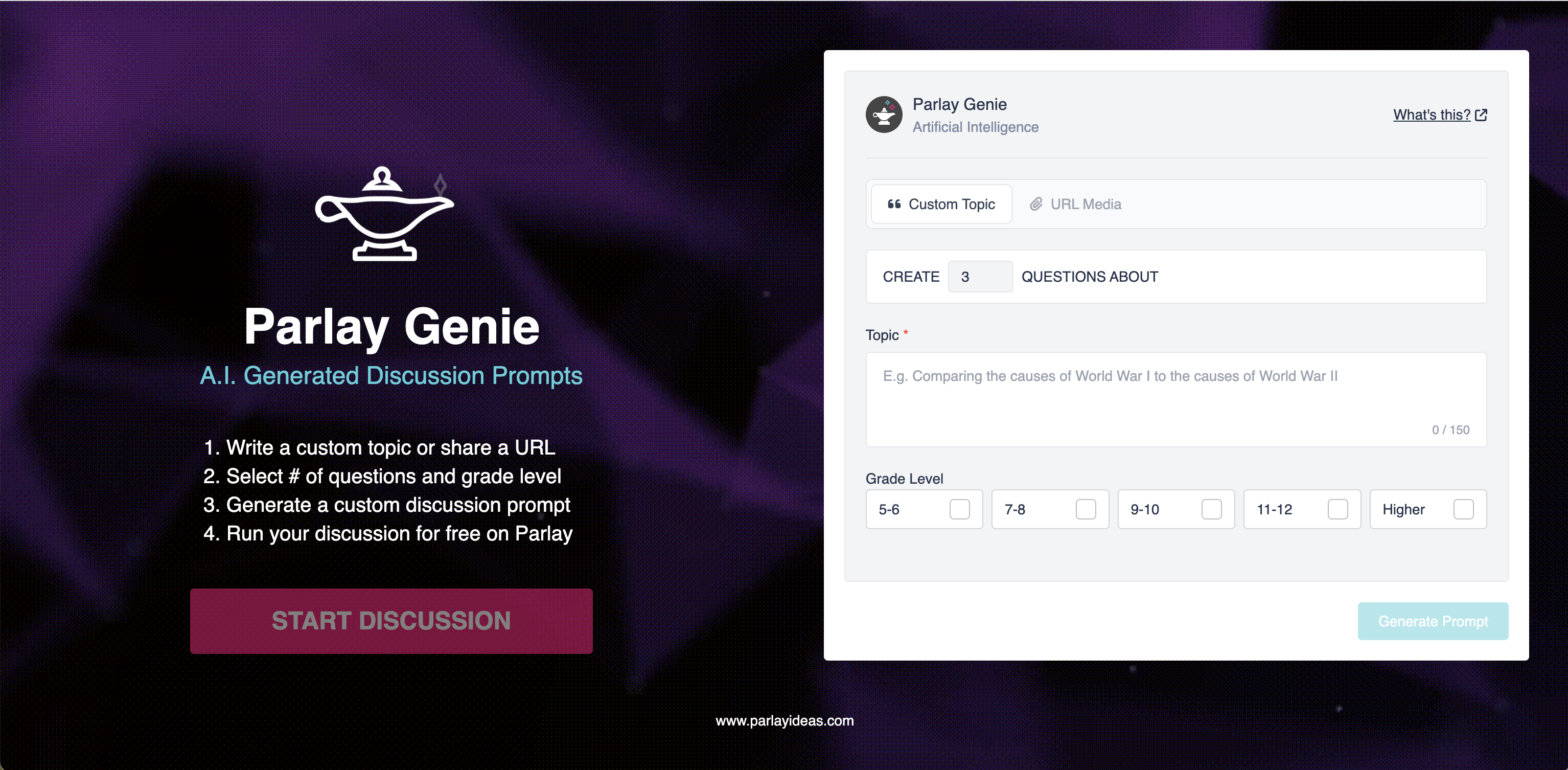 What is it: Generate higher-order discussions in your classroom with Parlay Genie's discussion ideas. Stop wasting time searching for ideas, let the AI do the work for you.
How it works: Link to online media or set your own topic, select the number of prompts and grade level, and use the generated questions to further your discussions on the topic.
Pricing: Free!
---
AI Assessment Helpers
21. Assess students with quiz questions and hints: Formative AI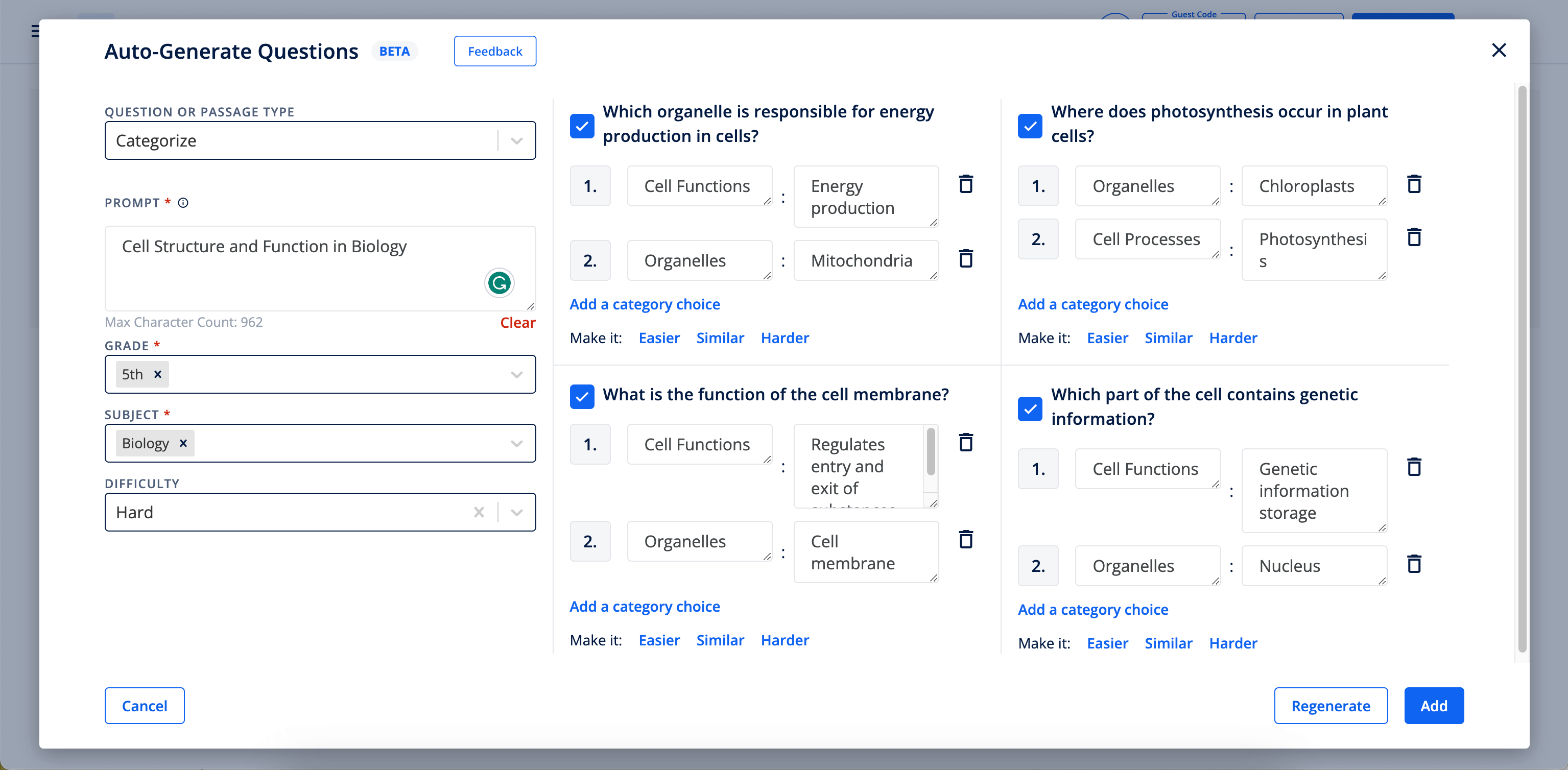 What is it: With Formative AI, you can assess students on every level through a wide variety of AI-generated quizzes. Targeted real-time feedback and insights can also be provided to improve student performance.
How it works: Enable the AI feature in your account and begin generating questions based on the content or subject.
Pricing: Free! For more advanced assessments, upgrade to Pro for $15 per month.
22. Personalized assessment: ExactPath
What is it: ExactPath uses adaptive assessments to identify areas where students are struggling and then provides personalized learning paths to help them improve. Teachers can use this tool to track student progress and adjust instruction plans as needed.
How it works: Exact Path gathers the data and assesses students where they need it the most based on your learning standards for mathematics, language arts, and reading.
Pricing: Check out Edmentum's site to learn more about their pricing for your school.
---
AI Grading Tools
23. Streamline your grading process: Gradescope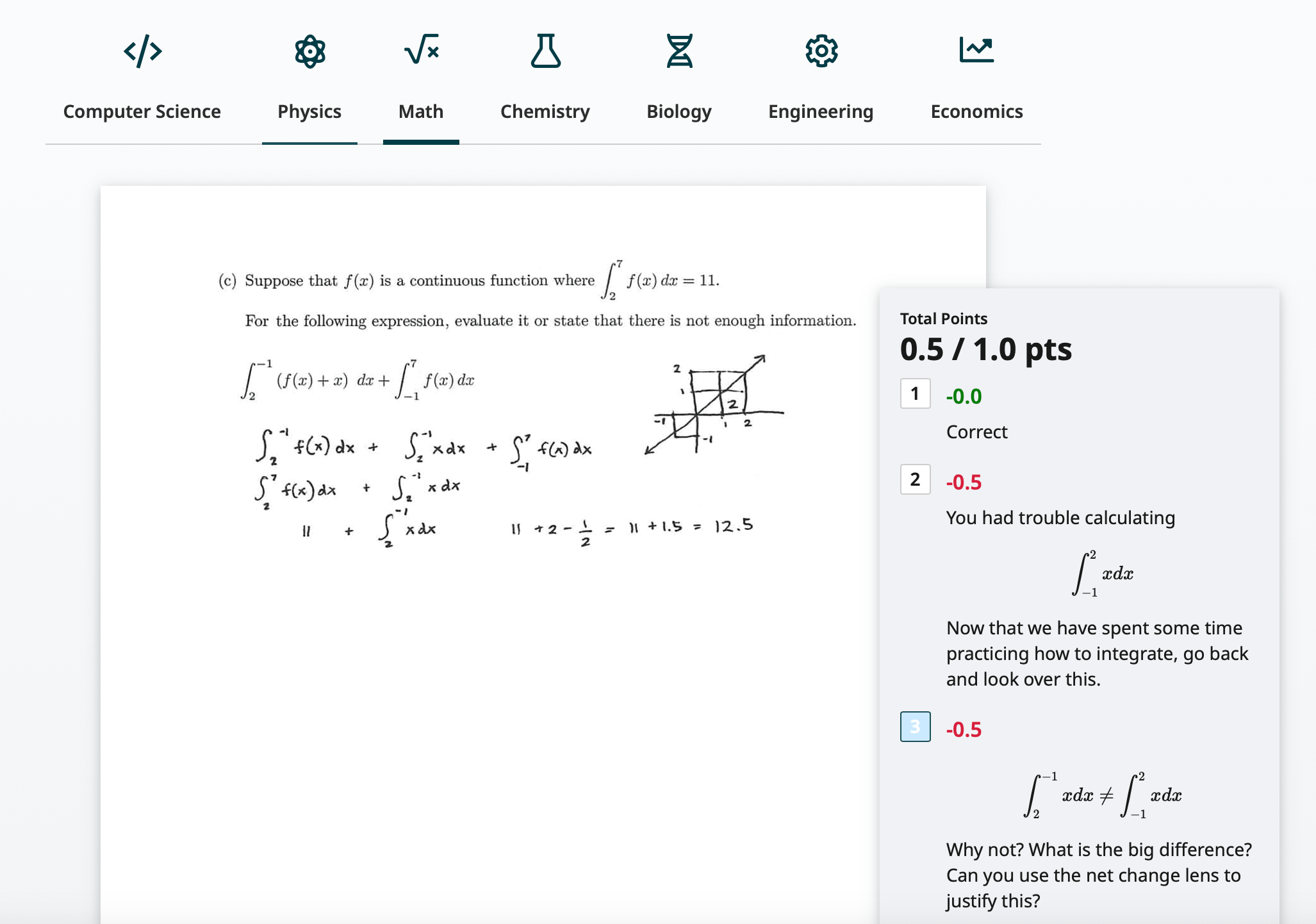 What is it: You can streamline the process of grading and providing feedback on assignments, exams, and other student assessments for both online and physical classes with Gradescope's AI.
How it works: Upload your grading rubric, assignments, and assessments. Gradescope will then automatically grade them for you. You can easily review and adjust the grades before releasing them to your students.
Pricing: Free trial, or reach out to Gradescope for an institutional license.
24. Plagiarism Detection: Turnitin AI

What is it: Turnitin has recently launched its own AI plagiarism checker with AI writing detection ability. You can now use Turnitin to check when AI writing tools have been used to produce student work.
How it works: Upload your students' submissions to Turnitin as usual, then Turnitin will compare them with a large database of content from the internet, academic papers, and other student papers, as well as detect any trace of AI-generated content.
Pricing: Free trial, or reach out for an institutional license.
25. Scannable Multiple Choice Grader: SmartGrade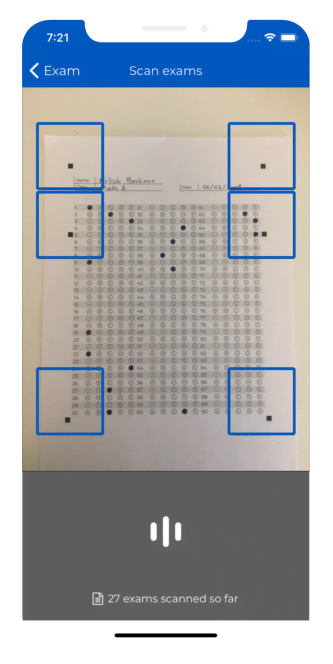 What is it: SmartGrade allows teachers to create exams and download answer sheets to easily assess and grade their students' work using the SmartGrade app.
How it works: Use your phone to scan your students' tests and receive analytics of your student's performance.
Pricing: Free trial, then $1 per month.
---
AI Tutors
26. Learning tutor and teaching assistant: Khanmigo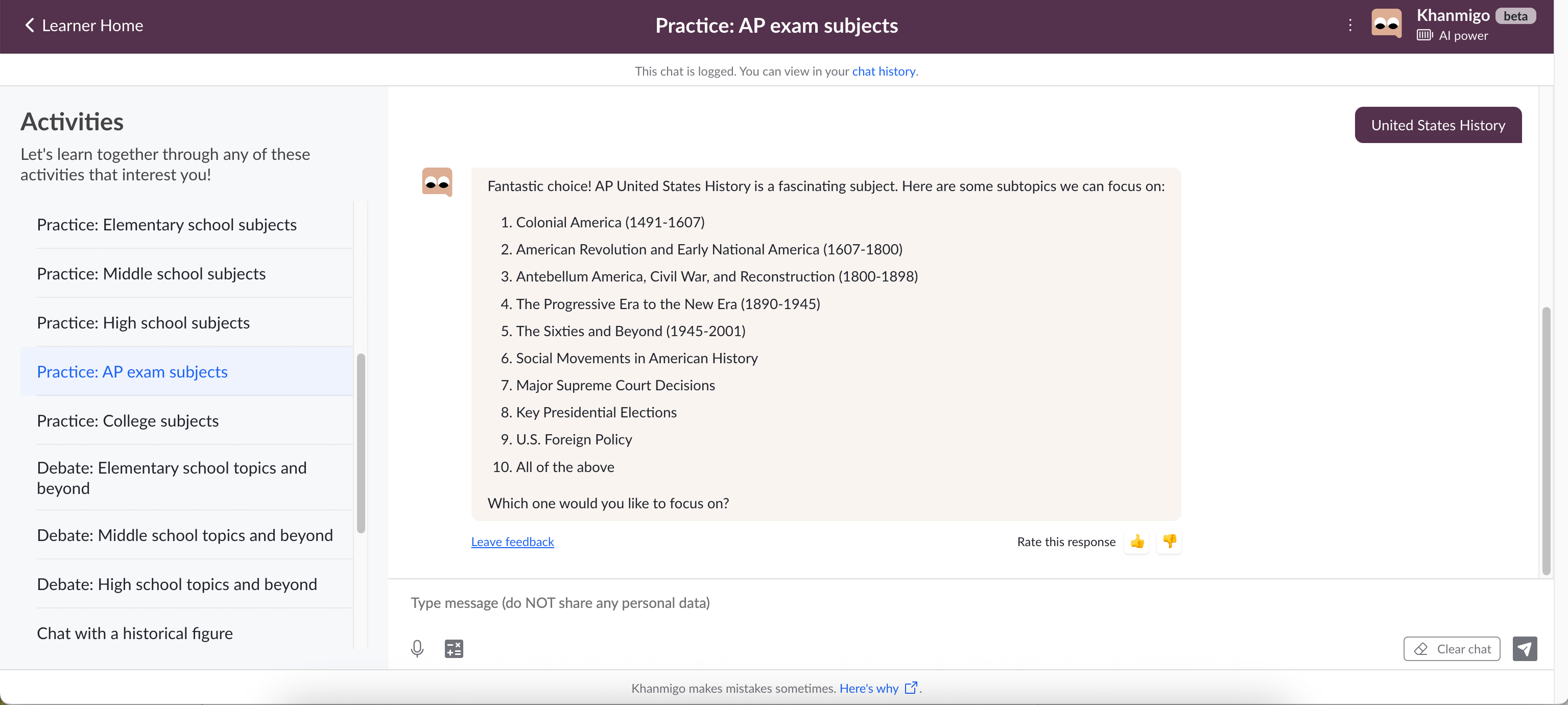 What is it: Khanmigo is an AI chatbot that aims to replicate one-on-one tutoring experiences by providing tailored support, prompting critical thinking, and suggesting relevant resources.
How it works: Students can type in the chatbot with their questions about any topic. Instead of providing straightforward answers, Khanmigo will ask questions back to students to help them think about the problem in a new way and guide them to reach the solution on their own.
Pricing: To access Khanmigo, it will be $9 per month or an annual cost of $99.
27. Math tutor: Synthesis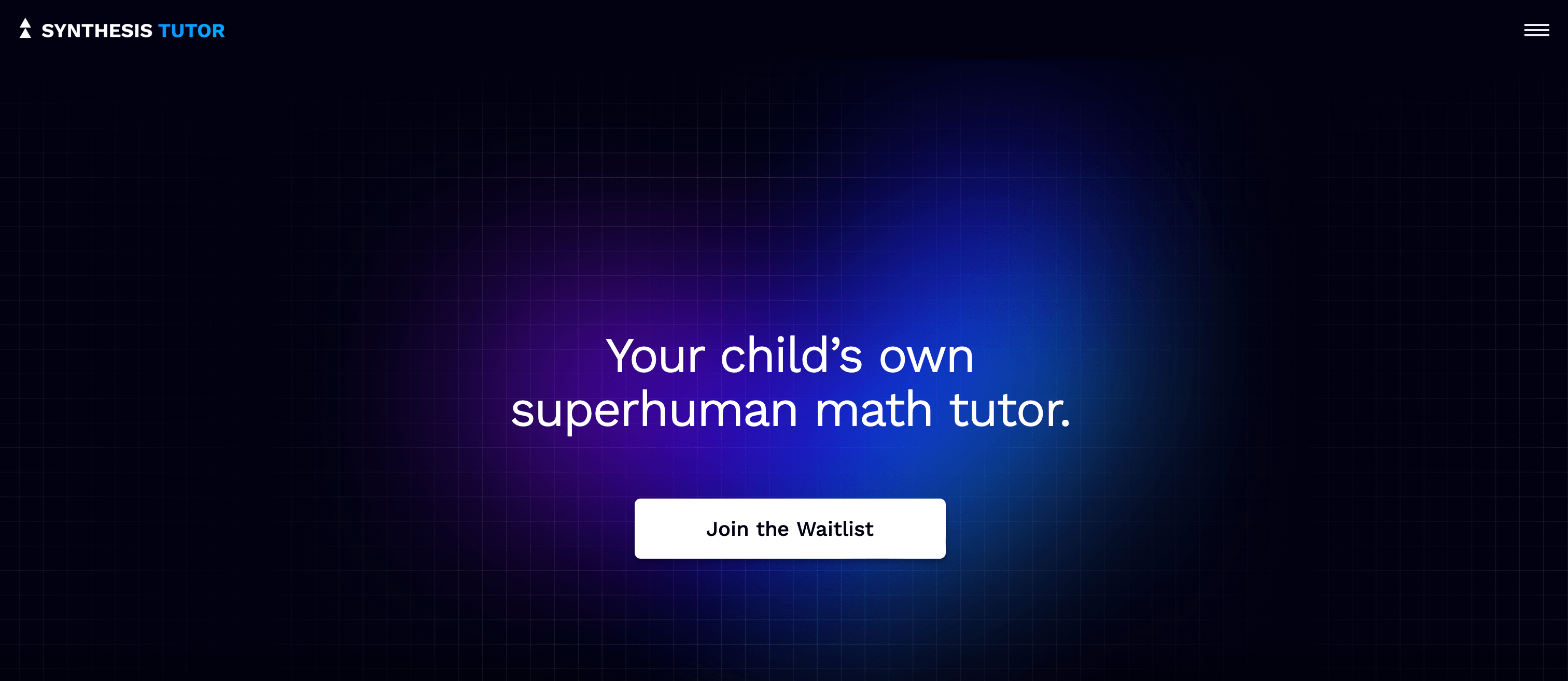 What is it: Made by the creator of Ad Astra School at SpaceX, Synthesis Tutor helps promote innovative problem-solving for students through interesting lessons based on age.
How it works: The Synthesis tutor will walk you through different lessons with interactive activities and questions on various math topics. Choose from a range of curriculums for students' lessons.
Pricing: 7-day Free trial or $45 per student per month.
---
AI Coaching Tools
28. Professional Development Coach: Edthena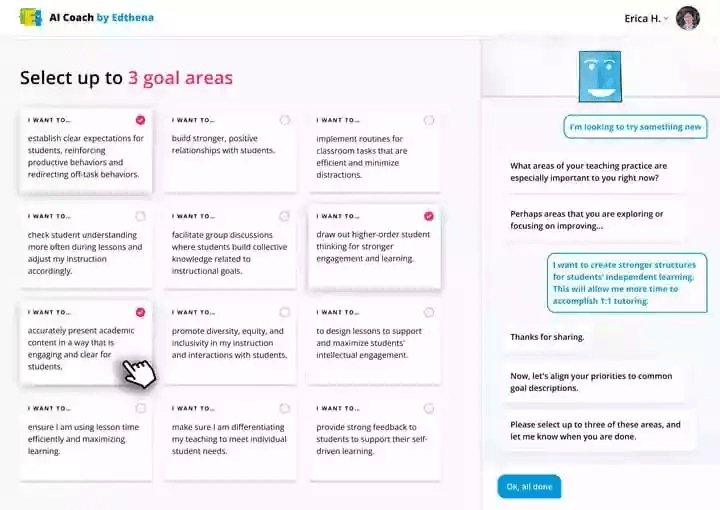 What is it: Edthena's AI Coach provides advice through self-observation, goal-setting, and action planning to help you optimize your classroom teaching. You can even earn PD credits at the same time!
How it works: Upload a video of you teaching and identify your priorities, and the AI will analyze your recording, provide feedback and help you curate an action plan in your desired growth area.
Pricing: Contact the Edthena Sales team for pricing information.
29. Build a Growth Mindset: Rocky.AI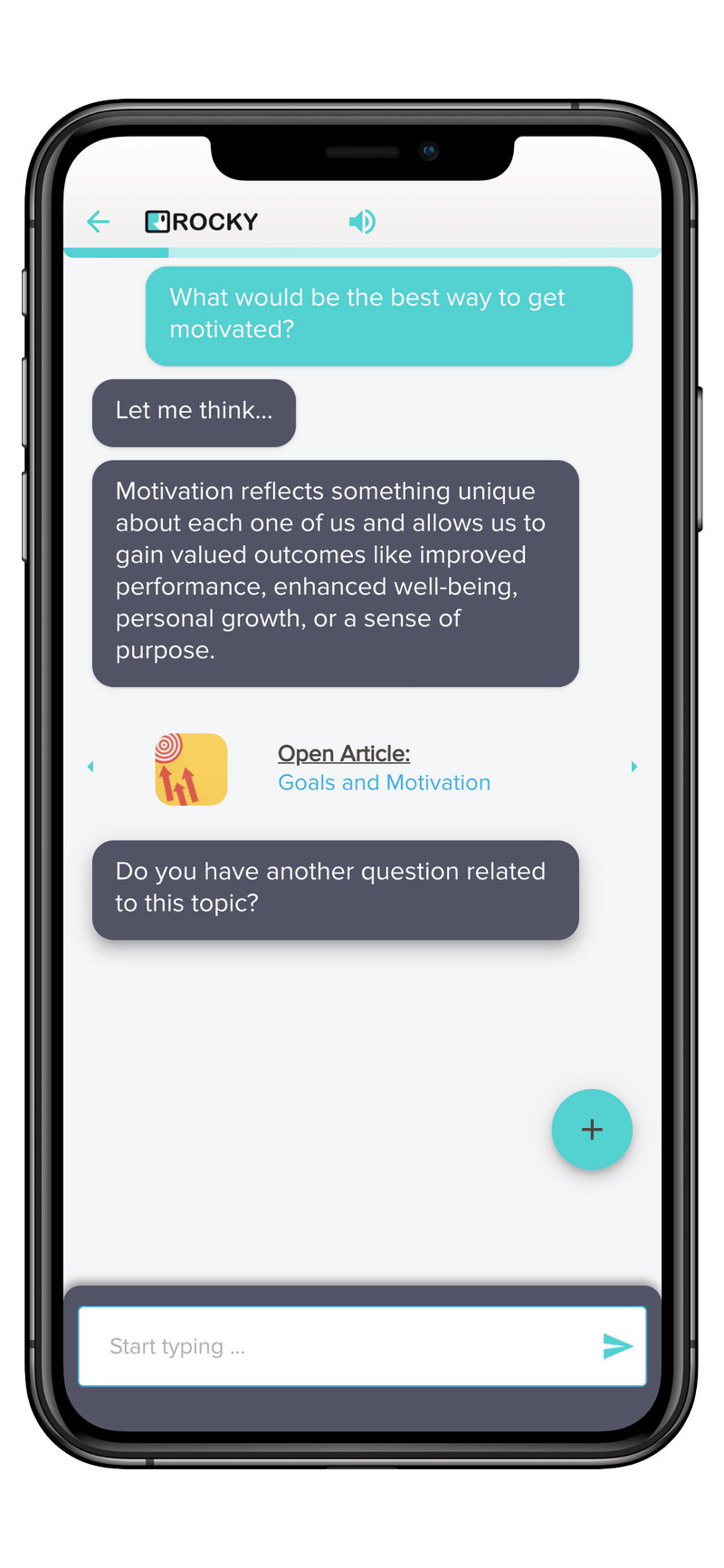 What is it: Refine your soft skills, build a growth mindset, boost your well-being, and leverage your personal and professional success with Rocky.AI.
How it works: Download the app and create your own personal development plan to partake in daily. You will take part in the daily coaching with the AI chatbot and set the action to reach your goals.
Pricing: Access a 7-day free trial to start, then upgrade for $10 per month at their most basic version.
30. Practice your Lessons: PowerPoint Speaker Coach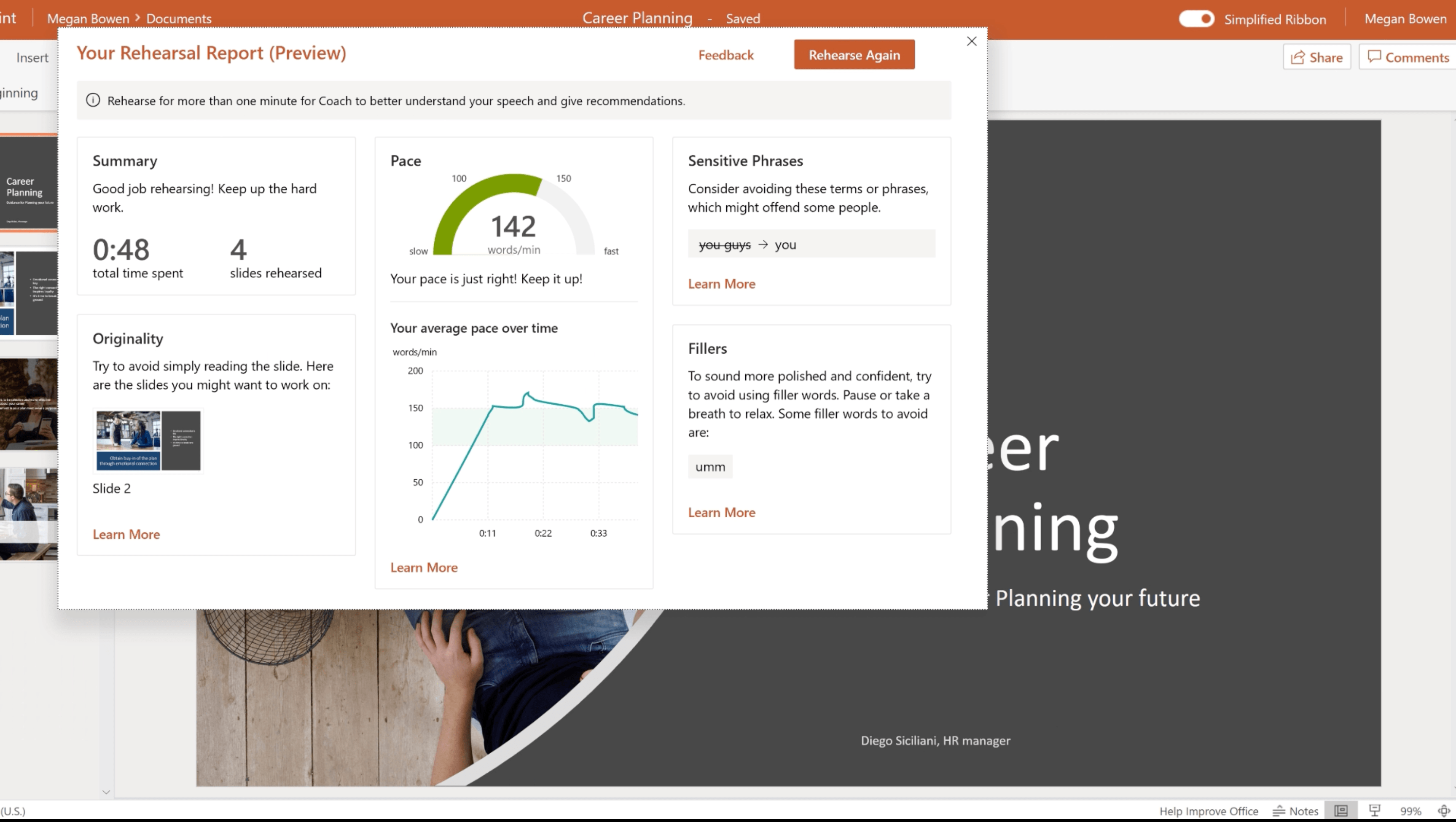 What is it: PowerPoint Speaker Coach helps you to prepare your lesson or speaking engagement by enhancing your speech delivery with fewer filler words, trimming down overly wordy points, and using the correct pitch and tone.
How it works: PowerPoint Speaker Coach is available on the PowerPoint web app and you can access it by going to "SlideShow" > " Rehearse with Coach". Then you can let the AI analyze your presentation delivery, and provide real-time feedback and suggestions on how to improve.
Pricing: Free with Microsoft 365 account.
---
AI Writing Tools
31. All-Encompassing Content Creation: Jasper AI
What is it: Create documents, emails, and lesson materials with Jasper AI. With a variety of templates you can access, creating any sort of content has become a breeze with Jasper AI.
How it works: Choose from their variety of templates, from text summarizer and video script outline to creative story and content improver, and let the AI do its magic.
Pricing: Start with a 7-day free trial. You have the option to upgrade to an individual plan for $39 per month annually, or as a team at $99 per month.
32. For webinar and training content: Copy.ai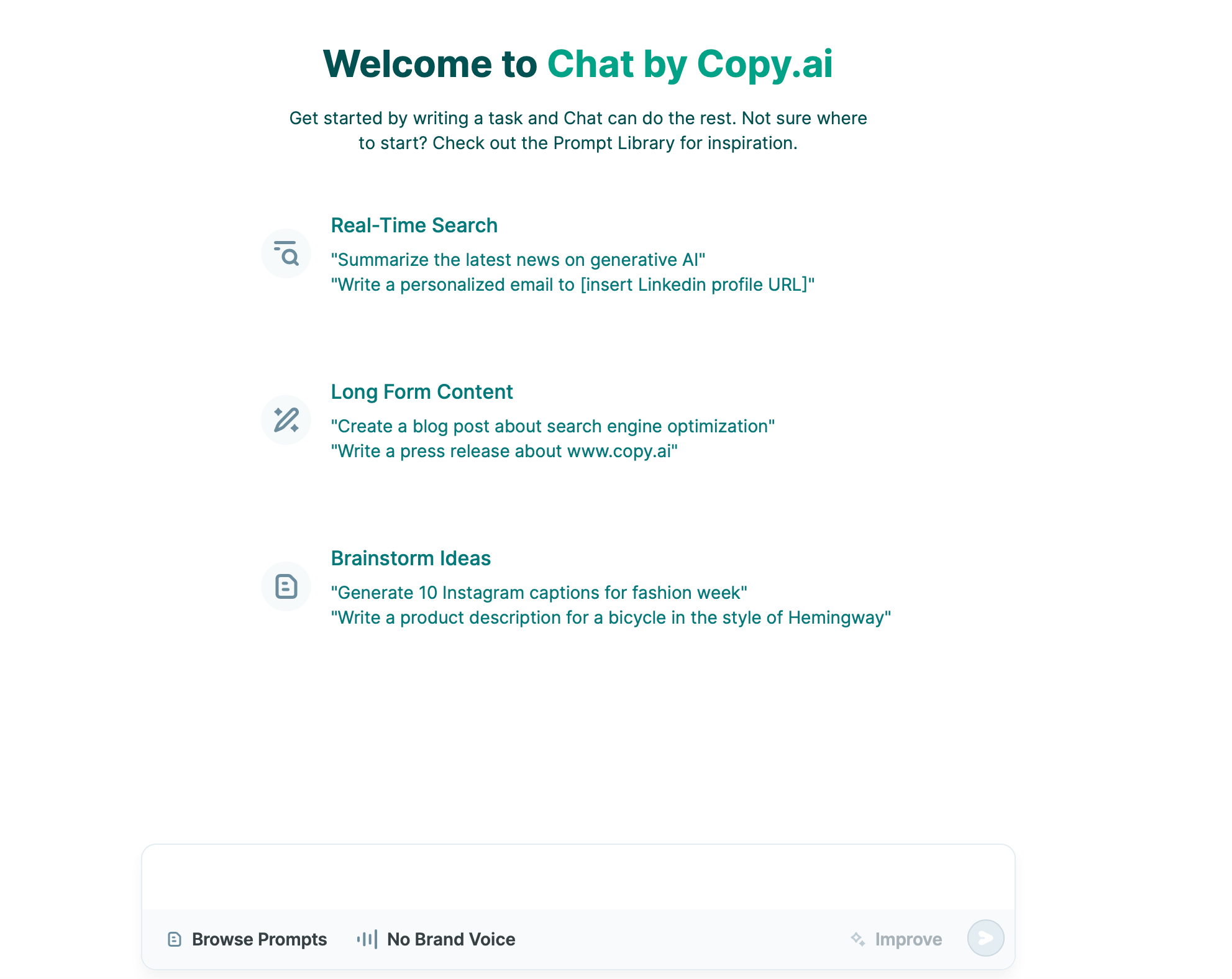 What is it: Generate education content, blog posts, and social media content easily to connect with your students with CopyAI's text generator.
How it works: Similar to Jasper AI, you can pick from a wide range of templates to start creating long-form content, outlines, summaries, or brainstorming ideas for your next class or project instantly with CopyAI.
Pricing: A forever free version with limits on the number of outputs. To access more advanced features or to unlock unlimited outputs, upgrade to the Pro plan at $36 per month, billed annually.
33. Rewrite Sentences and Paraphrase: Anyword
What is it: Anyword helps you generate high-quality content in a matter of seconds with tools like text summarizer, paraphraser, and sentence rewriter.
How it works: Select from a range of templates, add in details and begin editing. Changes can be made right inside Anyword or copied and exported to your preferred software.
Pricing: Free for 7 days or 2,500 credits (whichever comes first). Upgrade to Pro plan at $49 per month.
Having trouble with students using AI to write their assignments? Here are some tips on how to manage AI use in the classroom, how to teach students to use AI appropriately, and to avoid misinformation. 
---
AI Language Learning & Translators
34. Role-play real-life scenarios: Duolingo Max
What is it: As everyone's favorite language learning app, Duolingo now has its own AI feature for role-playing real-life conversations and providing more detailed explanations to learners' responses to questions.
How it works: Currently available for Spanish and French courses, Duolingo Max allows you to see more information about your responses. In addition, you can also speak with the chatbot to practice your pronunciation and understanding.
Pricing: Access a free trial, then upgrade to the Pro plan for $30 per month.
35. Practice Pronunciation and Speaking: Elsa Speak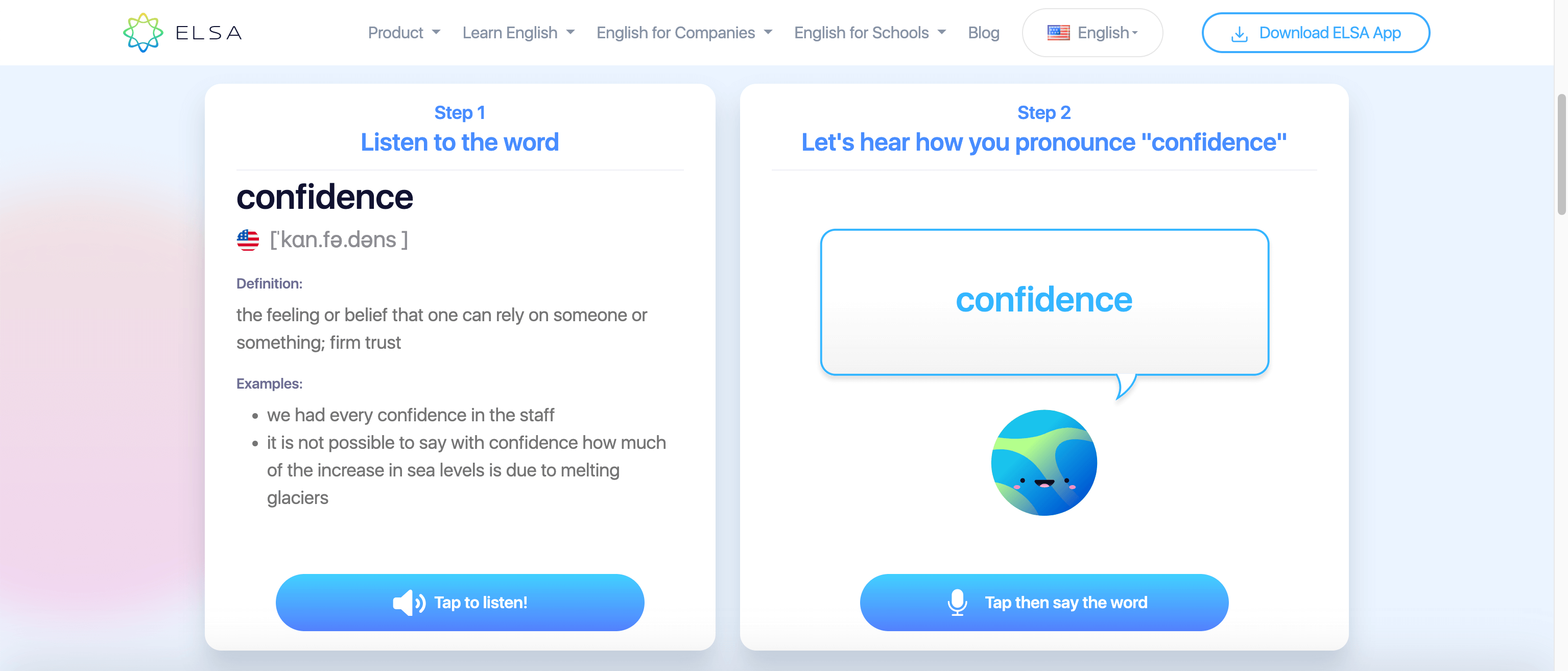 What is it: Practice speaking with bite-sized lessons and with Elsa Speak to better pronounce and speak in a new language based on the AI's feedback and critiques.
How it works: The AI technology in Elsa analyzes your pronunciation and provides real-time feedback on areas that need improvement.
Pricing: Free trial, then upgrade to Pro starting at $40 per month for 3 months.
36. 24/7 Translator Companion: Replika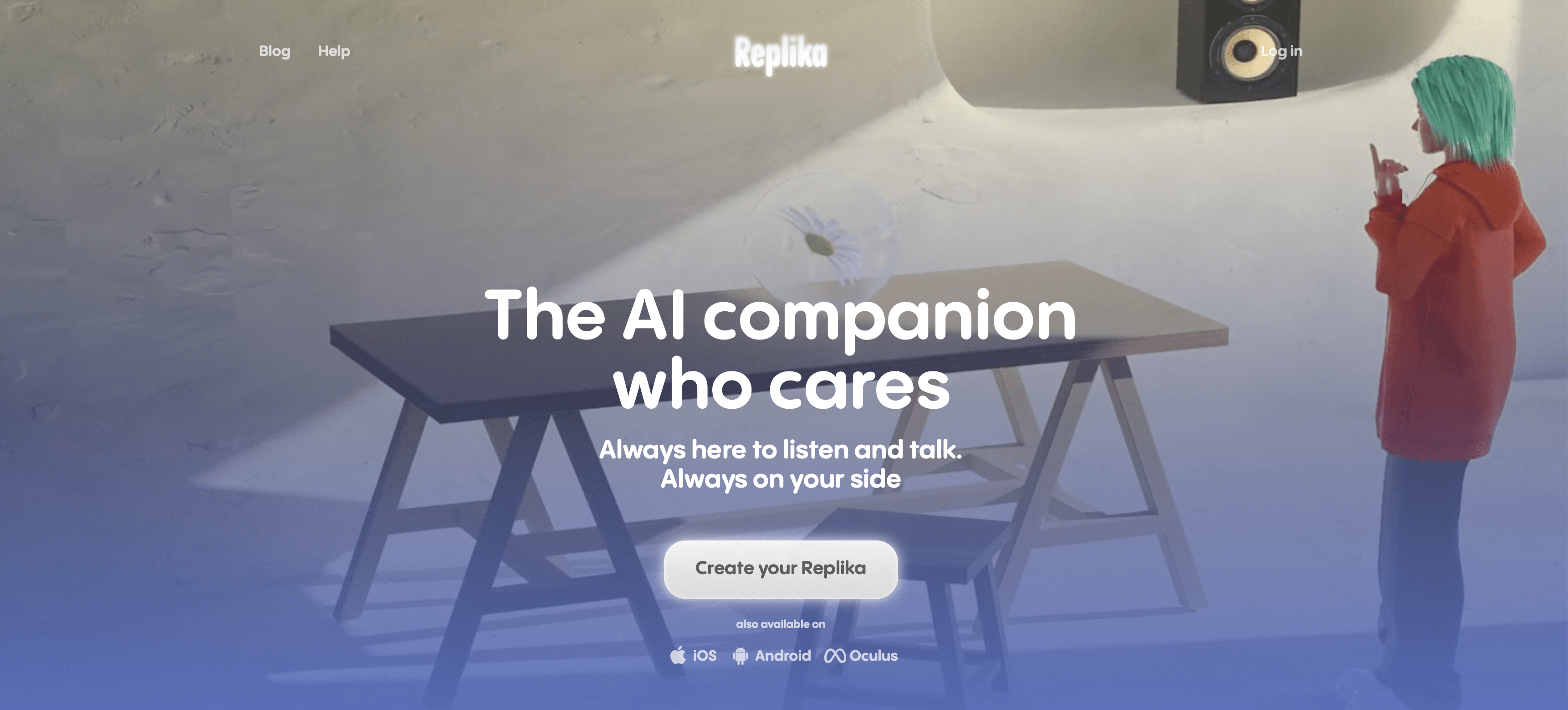 What is it: Replika is an AI friend you chat with at any time. Use it as a Pen-Pal for your students to practice their new languages.
How it works: Trained to generate unique responses, each conversation is unique and ready to push students to learn new things, so they do not stay in their comfort zone!
Pricing: Forever Free! Upgrade to Pro for more customizations for $8 per month or $50 per year.
---
AI Researching Tools
37. Automatically summarize documents: Genei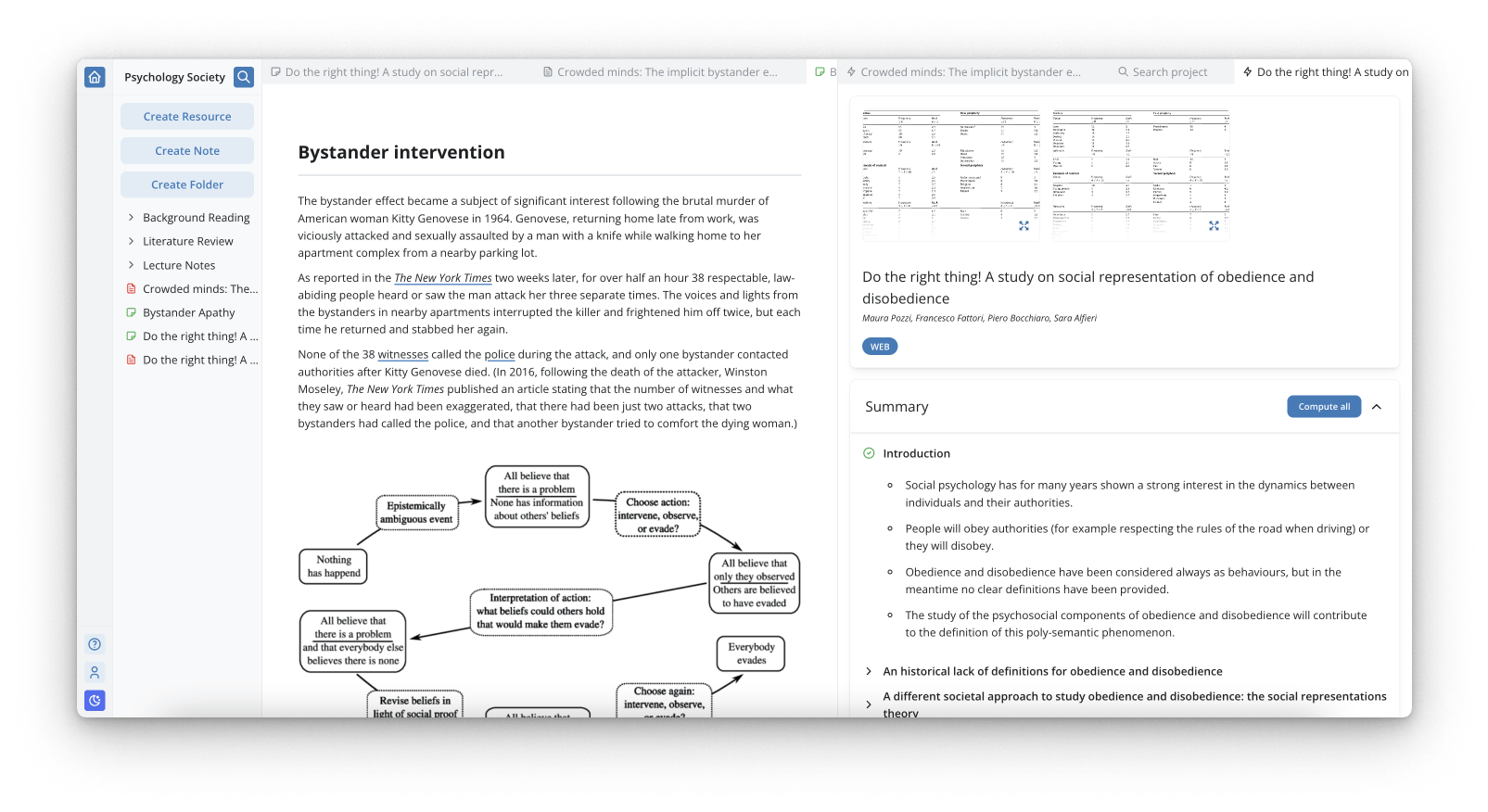 What is it: Genei helps you streamline your research and note-taking process, by keeping documents organized, writing academic papers, and citing your work.
How it works: Genei analyzes web pages, documents, and PDF files to extract key details, summarize them, highlight new points and provide new recommendations.
Pricing: 14-day free trial. Pro version begins at $12 per month.
38. Research papers AI-powered search engine: Consensus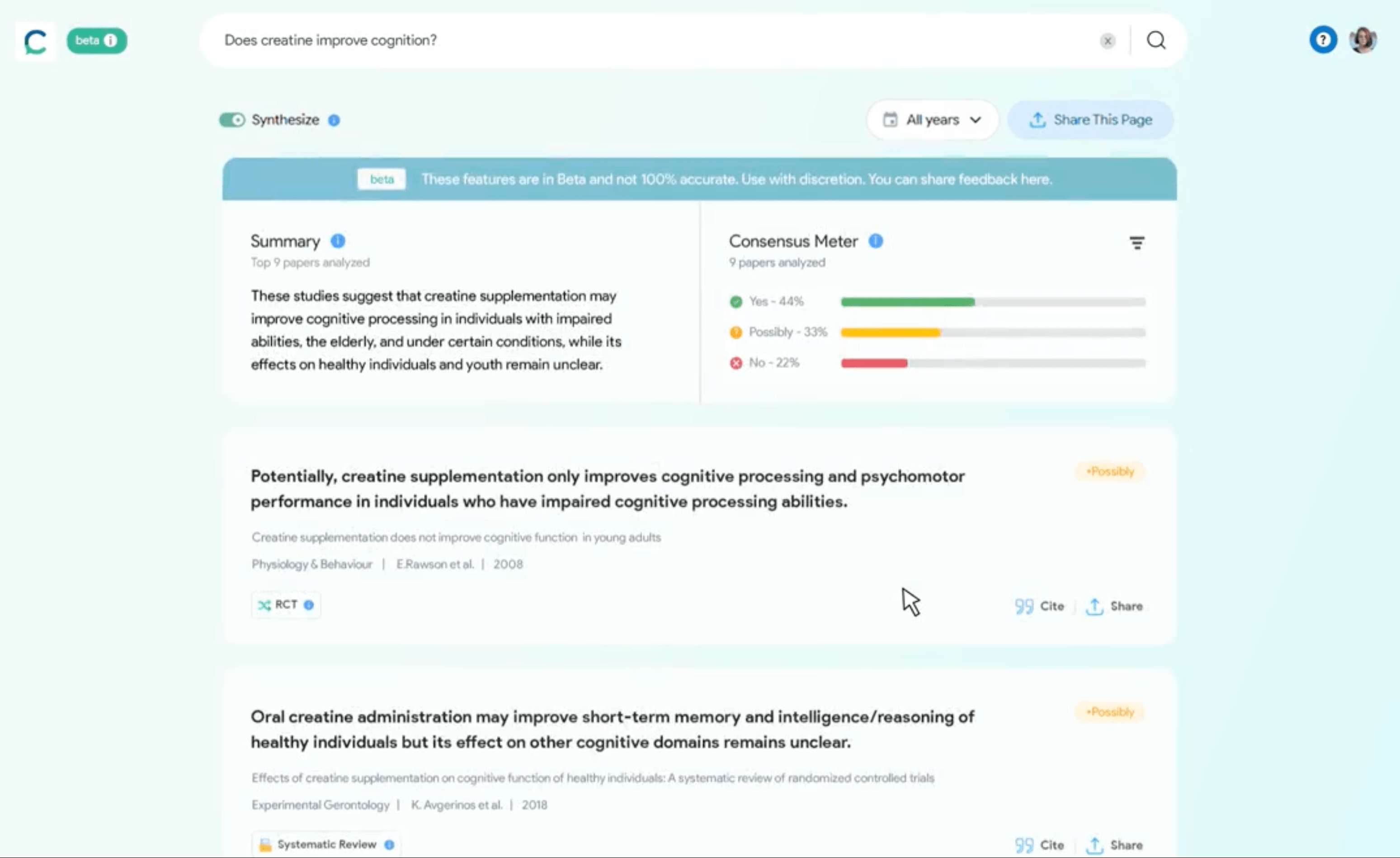 What is it: Consensus uses AI to extract and distill findings from scientific research, making it simple and easy for you to find evidence-based answers.
How it works: Enter a specific question into the search bar. Then, a vector search will be performed on 5,000 + papers to find a relevance score. That score is used to run another search on the best 20 documents, providing you with an accurate and relevant answer to your query.
Pricing: Free! For unlimited summaries and more features, upgrade at $8 per month.
---
AI Note-Taking Aids
39. Transcribe Audio Recordings: Otter.ai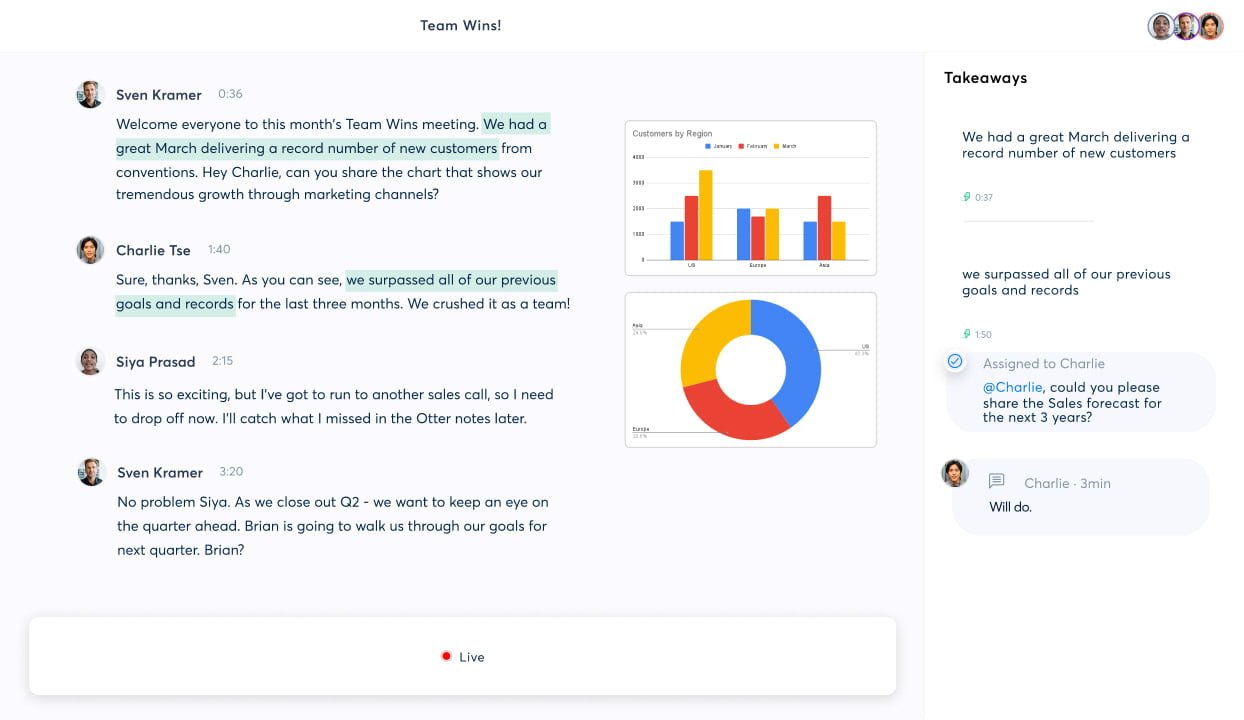 What is it: Transcribe notes, classes, or ideas with Otter.ai based on your audio recordings, video classes, or online meetings.
How it works: Automate notes by connecting your Zoom, Google, or Teams accounts. OtterAI will transcribe recordings or live classes, even screen grab any slides used in class!
Pricing: Free! Upgrade to Pro for $9 per month for more minutes to record and transcribe.
40. Find information lost in your notes: Mem
What is it: As a personal knowledge assistant, Mem helps you keep track of your thoughts and store notes. This way, when you need to access them, Mem will be able to help you find them.
How it works: Upload your files and simply begin a conversation and ask Mem a question. Mem makes the connections between notes and files, finding exactly what you are looking for. It is also super useful as a brainstorming companion!
Pricing: Free with a limit of 25 MB file size per upload. For more storage and AI features, subscribe to their plan at $8 per month.
41. Share insights and class notes: Airgram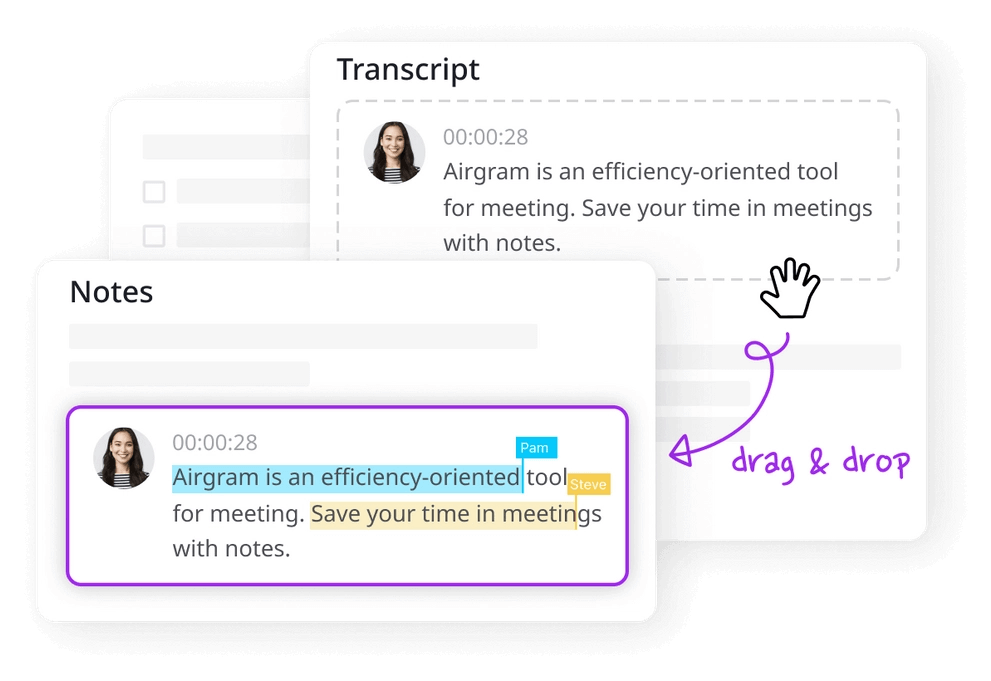 What is it: Share notes, highlight reels, or summaries with students automatically when you record an online class with Airgram.
How it works: Can be used with Teams, Google Meet, and Zoom. Airgram will automatically transcribe and summarize your lessons and share information with students after class or to keep a record of your classes.
Pricing: Free for up to 5 recordings per month. For more features and recordings, upgrade to their plan at $18 per month, billed annually.
---
AI Productivity Hacks
42. Spend less time scheduling: Reclaim AI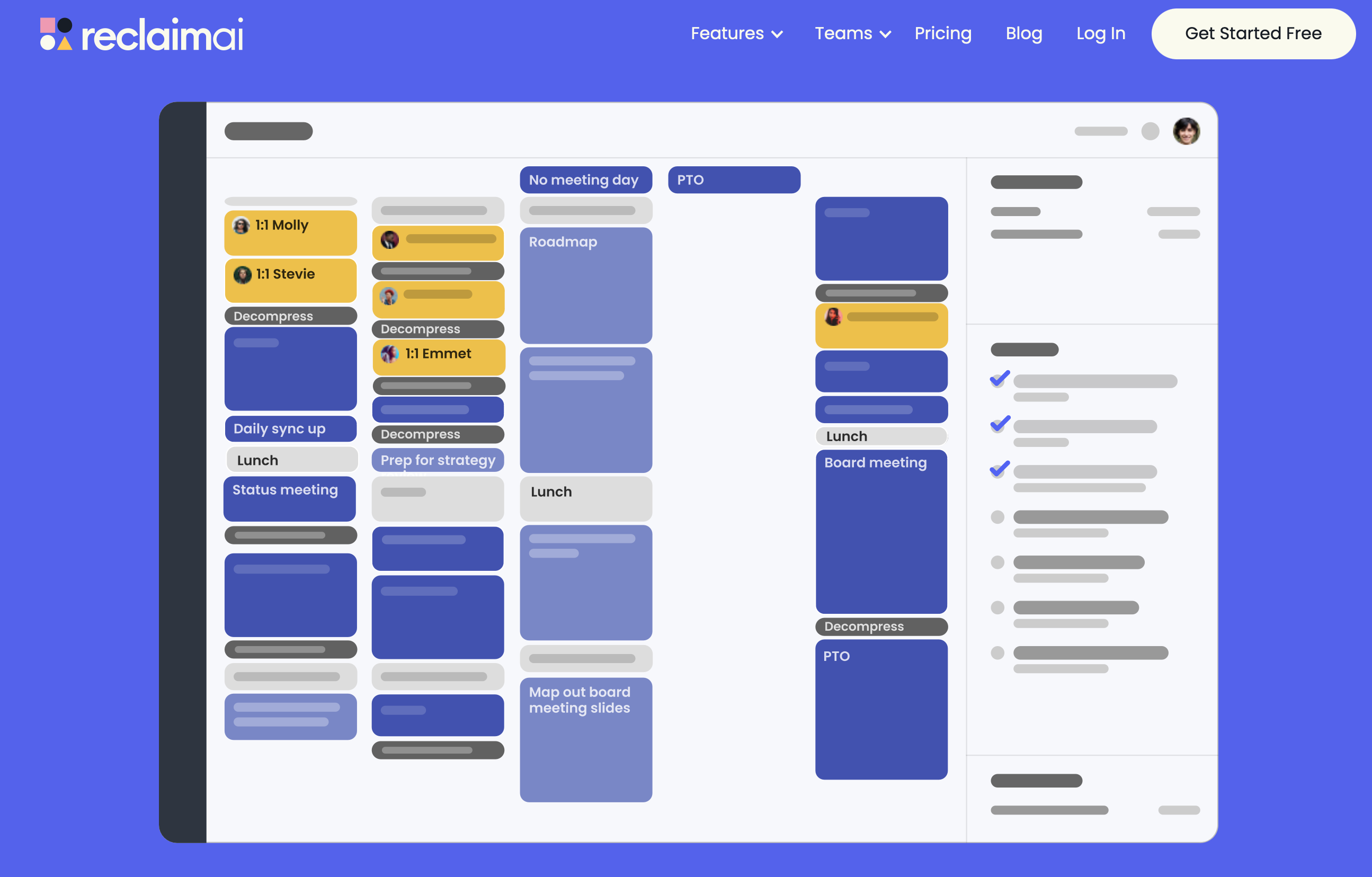 What is it: Automate scheduling parent-teacher conferences, staff meetings, or tutoring sessions with Reclaim AI. The AI will find the best time based on your current schedule and habits.
How it works: Reclaim AI can integrate with your existing calendar app like Google Calendar, and use machine learning algorithms to analyze your schedule and prioritize and schedule tasks, meetings, habits, and breaks for you.
Pricing: Free to schedule up to 3 weeks in advance. Reclaim AI's Starter plan costs $8 per month for more features and scheduling up to 8 weeks in advance.
43. Email management assistant: SaneBox
What is it: Sanebox sorts and files your emails into folders in your inbox automatically so that you can focus on the most important ones. Perfect to compartmentalize emails until you are ready to tackle them.
How it works: SaneBox categorizes your emails in folders based on your behavior. The more you use it, the more accurate it becomes.
Pricing: Free 14-day trial, then $7 a month for one email account.
44. Automate admin tasks: Zapier
What is it: Zapier streamlines administrative work and reduces the amount of time you spend on admin tasks, like collecting and moving data or sending email reminders.
How it works: Zapier connects to different software tools so that you can easily automate a variety of tasks, giving you more time to focus on what's important – teaching and interacting with your students.
Pricing: Free for 100 tasks per month. Upgrade to Pro starting at $20 per month for more tasks and features, billed annually.
45. All-Encompassing AI Teaching Assistant: MagicSchool.aI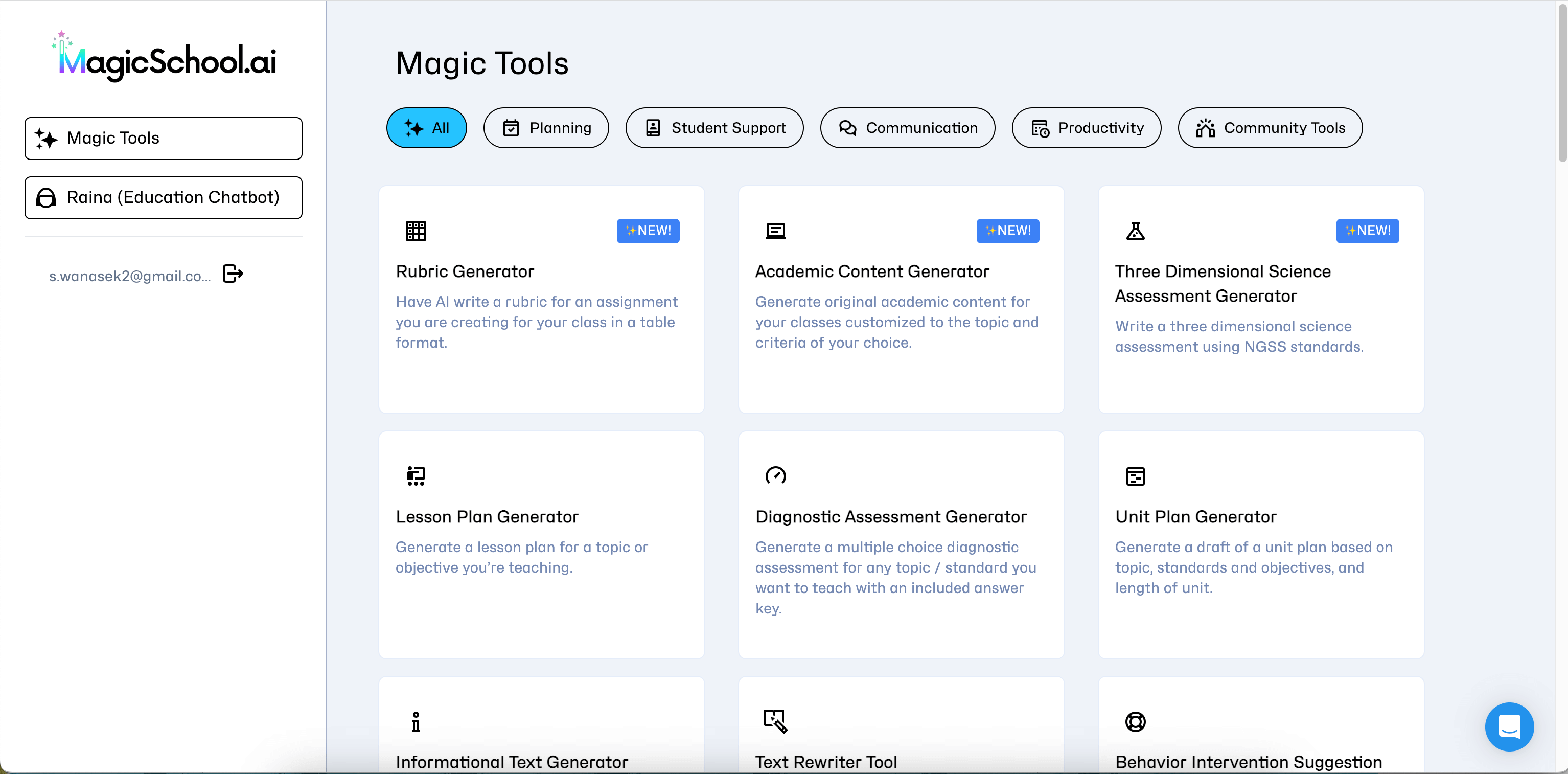 What is it: A one-stop-shop for teachers to help streamline tasks, create content creation, and help with teaching. With functions, such as suggesting behavior interventions, adapting texts for different grade levels, making topics relevant to students, creating practice SATs, rewriting and summarizing texts, and more, this tool helps teachers achieve a better work-life balance.
How it Works: MagicSchool.ai has Planning, Student Support, Communication, Productivity, and Community Tools categories. Choose a category and a specific task you need help with. Enter a few more requested details and the AI will help you generate rubrics, emails, lesson plans, behavior intervention suggestions, and so much more.
Pricing: Free for now, but there is a paid version in the works!
46. BONUS: Learning Assistant: Khanmigo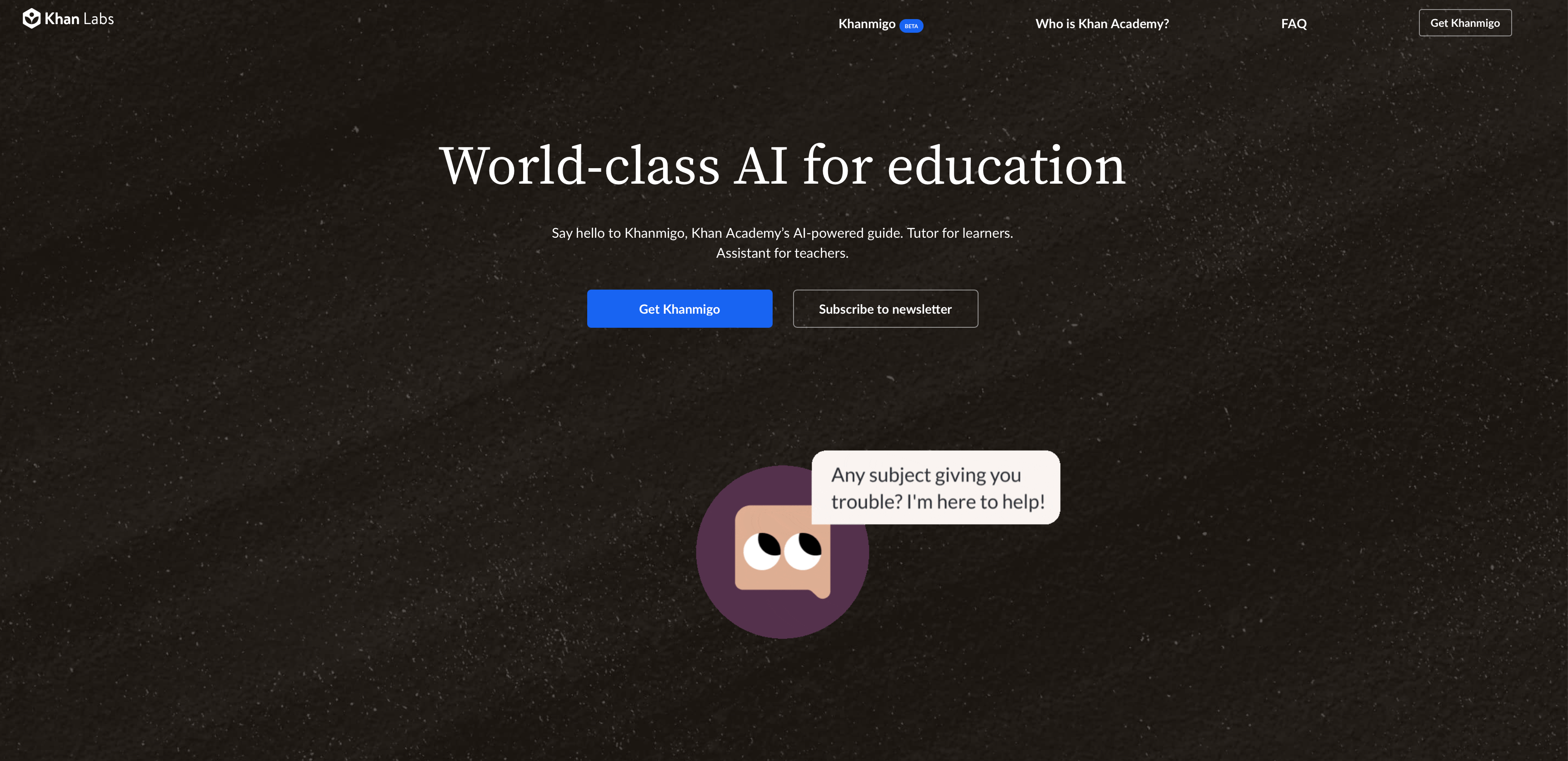 What is it: You best AI assistant to help with admin tasks, lesson planning, and analyzing student data for a clear snapshot of their progress.
How it works: Khanmigo is a Khan Academy-integrated chatbot. Ask Khanmigo your questions about lesson planning, creating activities, or helping a student and it will help you get to your end goal.
Pricing: To access Khanmigo, it will be $9 per month or an annual cost of $99.
---
Final Thoughts
These ChatGPT alternatives offer a range of functionalities to support various aspects of teaching and learning. Never used to replace your face-to-face instruction with students, these tools can help you save time in tedious tasks, increase your creativity, and help you become a better teacher.
By exploring these ChatGPT alternatives, you can expand your AI toolkits and leverage the tools to engage your students, enhance both yours and their subject understanding, foster critical thinking skills, and create an immersive learning experience.
For the latest tips, trends and tools about AI in education, read our A-Z guide to AI in education!